A Guide to Removing Sewage Odors in Your Home
Posted in Sewer Line Repair, on August 15, 2022
---
The nauseating smell of sewage water in your home can make anyone want to leave. Apart from the unpleasant odor, sewage gasses can trigger health issues like breathing difficulties and allergies. Sewage odors could be due to a sewage backup, clogged drains, dried-out p-trap, or a broken toilet ring. The first thing to do is contact a trusted plumber in Boca Raton for a swift plumbing diagnosis, repair, and safe sewage backup cleanup. After the cleanup, there could be some lingering smells.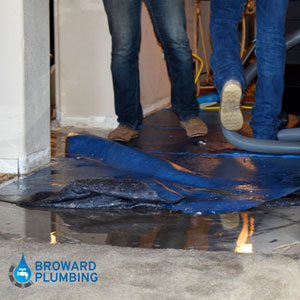 Use these practical tips from the experts at Broward Plumbing to remove any lingering sewage odors from your home:
How Plumbers Eliminate Sewage Odors
The first thing to do is to ventilate the affected areas by opening all the windows and switching on the exhausts to eliminate the raw sewage smell.
While you await the emergency plumbers near Boca Raton and sewage cleaners, running water through infrequently used shower drains/toilets is a short-term solution.
White vinegar can work wonders for cleaning and removing sewage stench. Fill any empty plastic spray bottle with white vinegar and water. Use this DIY spray to neutralize the sewage odors. Spritz around the house, holding the bottle about six inches away from the furniture and other fixtures. Similarly, mist on the floor and other affected hard surfaces. Don't worry about the vinegar smell - it goes away after some time.
Charcoal is an excellent remedy for foul odors as it absorbs pungent smells and freshens the air. Put charcoal pieces in glass bowls and place them around the house. Replace after 6-8 hours.
Baking soda is another life-saver! Sprinkle your carpets and rugs with baking soda and let it remain overnight. Thoroughly vacuum it the next day to eliminate the raw sewage odor. Baking soda is a natural remedy to effectively neutralize the sewage smells in your carpeting.
Finally, use any scented odor eliminator or fresh aroma oils to remove residual sewer gas odors. You can easily find them in your local grocery or home needs store.
Preventive Measures
A few preventive measures will go a long way to keep the sewage smells at bay:
Keep Water in All Plumbing Traps: Keep an eye on all plumbing traps in your house and ensure that the minimum water level is maintained in the least used traps.
Keep Your Vent Stack Clean: The vent stack is the plumbing vent (pipe) that opens up on the roof. This vent circulates fresh air into the plumbing system and helps regulate pressure and removal of odors & gasses.
Keep Your Drains Clean: Plumbing drains accumulate dirt, hair, food particles, and other debris that can cause clogs. Clean them regularly by removing the drain catcher and clearing off the built-up waste. If a drain is clogged and DIY methods don't work, contact an experienced plumber in Boca Raton for professional drain cleaning.
Restore Your Drains with Our Plumbers Near Boca Raton
Choose the trained and licensed plumbers at Broward Plumbing for professional sewage backup cleanup and deodorization services. Plumbing issues are never convenient, so we are available 24/7 for all residential and commercial plumbing issues. Trust the experience and expertise of the Broward Plumbing technicians for trenchless sewer repair, sewage backup cleanup, pipe lining, pile bursting, and more. Contact Broward Plumbing today to get back to your odor-free home!
Choose quality & professionalism - Choose Broward Plumbing.