Can a Gas Water Heater Be Repaired?
Posted in Hot Water Heater Repairs , on November 24, 2020
---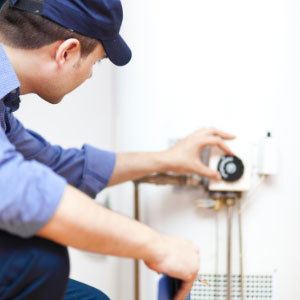 Running warm water in our homes is a blessing during winter, and we have modern technology and water heaters to thank for that. However, nothing is more frustrating than issues with your gas water heater bang in the middle of the freezing season and you scrambling online and searching up a 'plumber near me'! Though you can try DIY, it is best to call in an experienced and trained gas water heater repair professional to fix these breakdowns. Here are some common gas water heater issues and fixes that a plumber near Boca Raton or plumber in Fort Lauderdale employed by Broward Plumbing can fix::
Safety First
Before starting any repair or inspecting the heater, make sure to turn off the gas supply by putting the gas control valve on the 'pilot' setting. If needed, cut off the water supply to the heater by closing the shut off valve.
Issue #1 No Pilot Light
Check that the gas feed is on or try relighting the pilot light. Sometimes, a clogged inlet valve or defective thermocouple can also cause the pilot light to malfunction. Cleaning the valve or replacing the thermocouple can do the trick. Otherwise, contact a reliable gas water heater repair professional to diagnose the problem.
Issue #2 No Hot Water
If there are heating issues, then the thermostat or thermocouple may need repair or replacement. It could also be due to a malfunctioning flue pipe or sedimentation in the water tank. Get the heater inspected by a trustworthy gas water heater repair expert like Broward Plumbing to get a correct diagnosis and repair.
Issue #3 Burner Problems
Many times the burner fails to light due to gas feed issues or a problem with the burner or inlet valve. The newer gas water heaters could have a problem with the glow plug or spark ignition.
Issue #4 Weird Noises
While weird noises like low rumbling or popping sounds from your heater could just be the sound of water boiling due to excessive sedimentation. Hissing noises from the heater indicate a leak in the water tank. Call an experienced plumber from a 24-hour emergency plumbing company to look into the problem and to remove the sediment deposits by flushing out the water tank.
Issue #5 Water Leak
A water leak around the base of the heater could be due to a leak in the tank or plumbing connection. Water leaks can also happen due to a malfunctioning temperature and pressure relief valve. Call a gas water heater repair professional to fix the valve and plumbing pipe leaks. However, you'll need to replace the water heater tank if it is leaking.
Issue #6 Smelly or Rusty Water
Rusty water from your heater could be due to pipe corrosion, while smelly water could indicate a bacteria buildup. Speed dial a 24-hour emergency plumber to replace the corroded pipes and clean the tank.
Water Heater Repair Services with Broward Plumbing
A leaky water heater? No hot water in your shower? Don't worry, Broward Plumbing is here to help! Our expert plumbing professionals will get to the root of your gas water heater repair problems. We recommend routine water heater maintenance for your peace of mind and extended heater life. This includes annual sediment flushing and thorough inspection for potential heating problems.
Contact us for 24-hour emergency plumbing & expert gas water heater repair in Broward County.