How Cast Iron Pipe Repair Can Revive Your Plumbing
Posted in Pipe Repair, on June 09, 2023
---
Plumbers in Fort Lauderdale are well acquainted with plumbing issues arising from cast iron pipes. If you notice your plumbing is not functioning correctly and believe your property may have cast iron pipes. It might be time to have a professional plumber investigate the issue and determine if you need a cast iron pipe repair. Broward Plumbing is your trusted local plumbing company offering certified plumbing technicians along with advanced technology and tools to thoroughly investigate and remedy your plumbing issues.
Keep reading to learn how cast iron pipe repair can revitalize your plumbing.
History of Cast Iron Pipes in Florida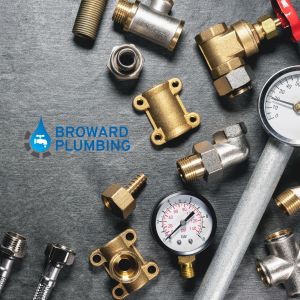 Cast iron pipes were used for plumbing as they were considered reliable and durable until approximately 1980. Cast iron pipes, unfortunately, rust and erode over time, making them susceptible to causing severe plumbing disasters; the industry then switched to using PVC pipes as they were found to be more reliable and could be produced faster and more efficiently.
Signs You Need a Cast Iron Pipe Repair
There are a few key signs that may indicate you need a cast iron pipe repair for your property. If your pipes are 50 years old or more and you experience frequent sewage backups, leaks, and strange gurgling noises, these may all indicate a cast iron pipe issue. Also, you should call a plumber if you notice bad smells, water damage on the floors, or raised or loose tiles. Plumbers in Fort Lauderdale will investigate to determine if your cast iron pipes are cracked or have developed a belly or sag, which is common for cast iron pipes. When a belly or sag occurs in cast iron pipes, it starts to cause a buildup or blockage, which makes your entire plumbing system work inefficiently.
The team at Broward Plumbing perform 360° camera inspections to understand fully what is going on in the pipes; this will help them decide on the next steps.
Revitalize Your Plumbing with Cast Iron Repair
Maintenance of your cast iron pipes will help with the longevity of the pipes and have them run more efficiently over time. High-pressure water jetting will help clear clogs and buildups and allow your system to function properly. Preventative maintenance helps prevent costly repairs and damage down the road.
After a thorough investigation, if your plumber determines there is severe damage to your pipes, you may need a pipe replacement.
Broward Plumbing For Cast Iron Pipe Repairs
Broward Plumbing is your number-one plumber for cast iron pipe repairs on commercial or residential properties. We have a friendly, professional team, and we are available for all plumbing emergencies 24 hours a day, 7 days a week, and we provide upfront pricing with no overtime charges. We are licensed, insured, and confident about the quality of work we perform, and we provide warranties on all repairs and installations. If you have any questions regarding cast iron pipes or any other plumbing concerns, our team of experienced technicians is available for free phone consultations.