How Does Summer Rain Lead to Sewage Backups in Boca Raton
Posted in Sewer Line Repair, on July 21, 2022
---
Summer months bring heavy rain and storms that can wreak havoc on your home plumbing system. Heavy downpours push excess water into shared sewer lines that can cause messy backups in the main sewer lines of your home, posing a severe health and property hazard. If summer rains cause sewage backups in your home, contact the best plumbers in Boca Raton for professional sewage backup cleanup. Meanwhile, be prepared to spot the warning signs of clogged drains and the beginnings of a sewer backup.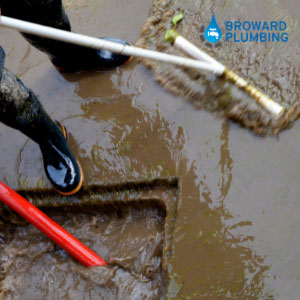 Sewer Clogs & Backup Signs
Clogs and blockages that lead to sewage backups usually show some typical warning signs:
Slow drainage in the toilet, shower, sink, or other drains around the house is a surefire sign of a blockage in the plumbing system.
Gurgling or bubbling sounds after flushing the toilet or running a shower or sink.
Foul sewage odor inside the house.
Unexpected lush green patches on the lawn usually occur right above the damaged pipes or septic tank.
Flushing a toilet or using the sink causes a backup elsewhere in the bathroom or house.
Why Sewer Drains Get Clogged After a Rainstorm
Summer rain storms can cause an abundance of water that can overwhelm or overload the municipal and sanitary sewers. If this rainwater runoff exceeds the sewer capacity, it can start flowing backward and cause sewage backups through your home's toilets, bathrooms, or shower drains.
Rain can also push debris and waste into the sewer drains, which can cause blockages.
Sometimes, heavy rains wash away the soil supporting the sewer pipes. Losing the soil support can cause sewer drains to collapse. These broken sewer lines can cause a sewage backup in your home.
Tree root infiltration can also be another factor blocking your drains. Abundant rain can cause tree roots to grow and sprout more quickly—reaching into the sewer lines buried underneath. These roots can pierce the pipes and thrive within, causing blocked and broken sewer lines.
What to Do When Sewer Drains Backup in Boca Raton
Sewage drain backups can be gross—a dangerous mix of garbage, water, human waste, and mineral salts spilling into your house. If you experience a sewage backup:
Contact a reliable emergency plumber in Boca Raton for repair and sewage backup cleanup.
Switch off your home's electricity if flooding reaches electrical outlets.
Shut off the water main and avoid using the home plumbing till repair work is complete.
Human waste is a biohazard—avoid the affected area to prevent exposure to pathogens in the sewage.
Remove articles or clothing affected by sewage waste.
Plumbers Boca Raton: Don't Let Summer Rain Ruin Your Plumbing
Heavy rain can overwhelm your sewer drains, causing cracks, clogs, and backups in your plumbing system. Natural calamities happen, and it's vital to contact professional sewage backup cleanup/sewage cleaners. Trust the expertise and experience of Broward Plumbing for the best plumbers in Boca Raton. Our licensed plumbers are available 24/7 for all plumbing emergencies in your Boca Raton home. We use top-of-the-line drain video cameras to look for clogs and damage. We undertake expert drain cleaning, hydro-jetting, drain-snaking, and repiping to fix all your sewer problems. Our post sewage backup cleanup safely removes sewage and thoroughly sanitizes your home for your protection.
Broward Plumbing is here for you when you need help with any plumbing issue, not just those related to torrential rain!
Call or contact us online for an appointment or service quote today.