How to Address Scale Build Up in Cast Iron Pipes
Posted in Pipe Repair, on March 07, 2023
---
Over time, pipes installed in commercial and residential properties tend to become clogged and backed up, especially with heavy use. The cause for these blockages could result from human errors from flushing and pouring items down the drain, such as oils, fats, wipes, and coffee grounds, that are better disposed of in the trash. In other cases, plumbers in Boca Raton find the cause of a blockage is simply scale or mineral build-up. In both situations, it's best to rely on professional plumbing services to remedy the problem.
Our team of plumbers in Boca Raton are experienced and equipped with specialized technology to streamline cast iron pipe repair and eliminate scale build-up for healthier plumbing systems near Broward County.
Here's how you can address scale build-up in your cast iron pipes.
What is Scale and What's It Doing in Your Pipes?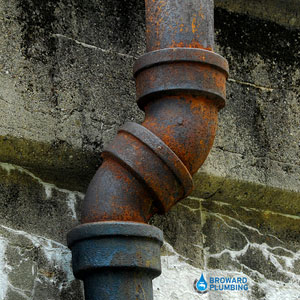 The water is considered hard in Broward County, Boca Raton, and throughout South Florida, with an average water hardness between 180-210 ppm. This means the water is saturated with hard minerals such as calcium. This is a natural phenomenon that leaves many property owners in need of plumbing services more frequently than in regions where the water is softer. The presence of minerals in the water and the corrosion of cast iron pipes that were popular up until the 1980s can cause scale to collect and get stuck inside drain pipes, eventually blocking the flow of water in your property, which requires cast iron pipe repair from a trained plumber in Boca Raton to be reversed.
Signs of Scale Build Up
As build-ups and blockages progress, they can cause severe damage to plumbing systems and properties. Recognizing the signs of a problem early and contacting a licensed plumber near Boca Raton and Broward County is the best way to solve the issue at hand.
Some common signs that scale and mineral deposits are why you need cast iron pipe repair in Boca Raton include slow-draining plumbing fixtures. If your sink, toilet, shower, or even basement drain is bubbling or taking longer than usual to drain water away, your pipes may be blocked. As build-ups get worse, they lead to backups trapping sewage waste in the pipes, causing blockages that emit foul odors and leaving you at risk for water damage and flooding. When you start to notice indications of a sewage backup, it's best to contact emergency plumbers near you to address the problem quickly and effectively before your property, and the people in it are affected.
How Plumbers Address Cast Iron Repair in Boca Raton
To determine if you need cast iron pipe repair, the team at Broward Plumbing will use advanced robotic camera inspections to identify the problem within your pipes, accessing a 360º view of your drain pipes. If a blockage is detected and serious, we will use hydro jetting to descale your cast iron pipes, blasting water at a high pressure to break up any obstructions. If cracks are detected within your plumbing systems, we will recommend making the switch to high-quality PVC pipes, which will restore health to your property longer than cast iron pipe repair and even increase your property value.
To start repairing and unclogging your drains, reach out to the team of plumbers near Boca Raton that you can trust.