New Homeowner Guide To Hot Water Heater Repairs
Posted in Hot Water Heater Repairs , on February 07, 2022
---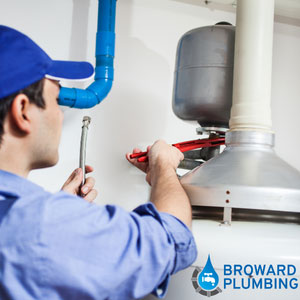 We're proud to be your go-to plumbing company for plumbing services in Broward County and strive to provide the most accurate and helpful plumbing information.
The decision to purchase a new home is the fulfillment of a dream for most homeowners, but it's also a choice that comes with several challenges. Probably the most common one for homeowners settling into a new home is a malfunctioning hot water heater. The good news is that most hot water heater repairs can be handled on-site. Here's a quick glance at common water heater issues & what you can do.
First, Get Familiar With Your Water Heater
It is essential to know about the type of hot water heater you have to understand the problem. There are four main types of water heaters available: Conventional gas-based water heaters, electric water heaters, hybrid heaters, and the new entrants on the block—tankless water heaters. At Broward Plumbing, our plumbers in Boca Raton, Fort Lauderdale, and Broward Coutny offer high-quality and comprehensive water heater repair so you can live comfortably and with minimal disruption.
Common Water Heater Repair Problems
Before inspecting a problem with the water heater, make sure to turn off the electricity or gas and let the appliance cool down. Hot Water heater repairs in Fort Lauderdale will tackle some issues new homeowners may face including:
Water Temperature Issues
The most typical problem with water heaters is water temperature issues. Either the water does not heat enough, or it is scalding hot! The solution could be as simple as adjusting the thermostat in most cases. However, if the water still does not heat on cranking up the temperature, there could be several reasons:
A defective thermostat.
Gas control/burner assembly damage in a gas-based heater.
Faulty temperature-pressure ( T&P) relief valve.
Loose wiring.
If you are not comfortable replacing a faulty valve or thermostat, it is always better to call in an experienced plumber from a reputable plumbing service in Broward County.
Leaking Water Heater
A leaky water heater can seriously damage the floor and other electrical components near it. Try tightening the pipe connections in the heater as there could be a loose screw or connection. If there is a substantial leak at the base of the appliance, contact a professional immediately. The technician can inspect it. If there is a leak in the tank, the only solution is to replace it.
Water Discoloration
Discolored water may be due to rusting of the anode rod or, worse, the water tank. Changing an anode rod is not a DIY job; contact a professional to check and replace your anode rod. Dirty water may be caused by limescale deposits or sediment. Draining the water and flushing the tank may solve the problem.
Noisy Water Tank
Again, scale build-up inside the tank & on heating elements is behind those rumbling noises coming from your hot water tank. Descaling and flushing the tank should fix the problem. You can flush and drain the tank every few months to prevent build-up in the future. If the problem persists, have a hot water heater repair professional look at it.
The Best Plumbers in Boca Raton & Broward County
Hope the above information helps you sort out your water heater issues. Keep in mind that whatever the water heater problem, it is vital to address it at the earliest. If you still have questions or need help with plumbing services in Broward County, the pros at Broward Plumbing will be happy to help! Whether it's hot water heater repair, installation, or replacement, you can trust Broward Plumbing for effective & timely water heater services!
Contact the best plumbers in Broward County today!