Warning Signs of a Water Heater Breakdown
Posted in Hot Water Heater Repairs , on June 14, 2023
---
Only some enjoy cold showers on occasion. Water heaters are crucial in making a house a home, even in warmer climates like in Boca Raton. A water heater's lifespan can range from 8-12 years, but when is the right time to replace it? Read on to learn how you can spot the signs of a troubled water heater.
When you need emergency water heater repair in Boca Raton, choose Broward Plumbing: available 24 hours a day, 7 days a week, for anytime you need a plumber in Boca Raton.
Signs You Need a New Water Heater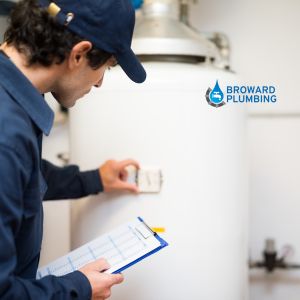 Daily water heater use comes with overall wear and tear over time. Here are some signs it's time for a replacement:
Strange noises: If you are experiencing noises coming from your water heater system, such as popping, rumbling, or banging, this is usually caused by sediment buildup at the bottom of the tank, causing overheating and system failure.
Colder Water: If your water is not coming out as consistently or colder than usual, this is normally a good indication of significant problems in your water heater system.
Low Water Pressure: If the water pressure from your cold water faucet is significantly stronger than the pressure from your hot water faucet, this is typically caused by sediment buildup within the tank.
Discolouration: When your warm water has a hint of yellow, this is a good indicator that your anode rod is failing, which is responsible for protecting the interior of the tank from corrosion. Once the anode rod fails, it's not too long until the whole system fails too.
Odd Smell: If you are experiencing bad smells coming from your water, it's most likely caused by bacteria growing in your water heater tank. You can get rid of bacteria by simply draining and treating your water.
Why You Should Replace Your Water Heater
Although water heaters can still function past 12 years of use, it's essential to keep them up to date to prevent any risks to your home. Some hazards, such as mold and critters, can affect the house's structural integrity. If your water heater is outdoors or open to the outside, there is more chance you will encounter creatures, as small animals gravitate towards the warmth. You may also experience rats and mice that may cause damage, such as chewing on wires or insulation. You may also experience blocked valves and overheating caused by sediment and mineral buildup in the water heater.
In some cases, installing a new hot water heater can be highly beneficial. With cutting-edge technology, the latest water heaters are more efficient and cost-efficient. As they use less energy, these heaters save you money on your energy bills instead of having all the extra repair fees on top of energy bills with your old heater. There are also many more options when selecting a new heater, all with different benefits. If you have any inquiries about the selection, it's always a good idea to consult a professional about making the right choice.
When You Need Water Heater Repair, Our Boca Raton Plumbers Can Help
If you are experiencing any of the signs listed above, do not hesitate to contact Broward Plumbing. We are located all around Broward County and surrounding areas like Boca Raton and Fort Lauderdale. We provide the best solutions for all your plumbing needs, ensuring our customers are completely satisfied with their homes.
Contact us today to talk with our top plumbers near Boca Raton.