Looking For An Emergency Plumber in Boca Raton?
Posted in Emergency Plumbing Services, on March 14, 2022
---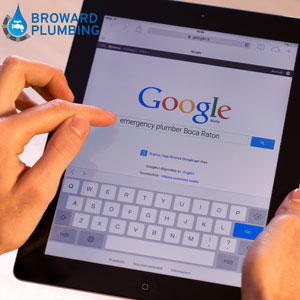 When something goes wrong with your plumbing, it's important to know the best plumber in Boca Raton to call. If you're looking for an emergency plumber in Boca Raton, you want to be sure that you're working with a reputable company that will have your best interests at heart. It's important to know what to look for when searching for "plumber near me in Boca Raton." Not all plumbers are created equal, and some may not be up to the task of handling a plumbing emergency.
Here are a few things to keep in mind when looking for an emergency plumber in Boca Raton:
24/7 Emergency Plumbing Services
When you need a plumber, you need a plumber now. You don't want to wait until business hours to get help with a plumbing emergency. Make sure that the company you work with offers 24 hour emergency plumbing services in Boca Raton so that they're always there when you need them.
Certified & Licensed Plumbers
Not all plumbers in Boca Raton are created equal. When you're looking for an emergency plumber in Boca Raton, be sure to work with a company that employs certified and licensed professional plumbers in Boca Raton. This is important because you don't want someone working on your plumbing who isn't qualified, and you don't want to be held liable if something goes wrong.
Know What Type of Plumber You Need
There are different types of plumbers in Boca Taton, and not all of them are equipped to handle emergencies. General plumbers can usually handle most basic plumbing tasks, but if you need someone who can handle more complex tasks, you'll need a well equipped emergency plumber, like the plumbers at Broward Plumbing. Make sure you know what type of plumber you need before you start looking.
Local Plumber Recomendations
Your friends and family may have had a good experience with a particular plumber in the past, and they may be able to recommend someone to you. Once you've gathered a few recommendations, it's time to start doing your research and start plumbing companies in Boca Raton.
The Question Checklist to Ask Plumbers in Boca Raton
When you are in need of an emergency plumber in Boca Raton, you want to make sure that you are getting the best service possible. There are a few things that you can do in order to make sure of this, and one of the most important is to ask the right questions. Here are some questions that you should ask any plumbing company in Boca Raton before you decide to work with them:
Do they have the necessary equipment to handle my emergency?
How long have you been in business?
Do you have a license and insurance?
What is your hourly rate?
What are your service fees?
What is your cancellation policy?
What is your response time?
Do you offer any guarantees or warranties?
What kind of equipment do you use?
Do you have any references?
What kind of training do your employees have?
Can I read reviews from past clients?
Do you have any special offers or discounts?
Choose the Best Plumber Near You
These are just some of the questions you should ask when looking for an emergency plumber. By asking the right questions, you can easily determine if they are the right plumber for you. Contact Broward Plumbing today to inquire about our 24/7 emergency plumbing services in Boca Raton.