When is Water Heater Replacement the Best Choice
Posted in Hot Water Heater Repairs , on August 09, 2023
---
Water heaters provide a household with the comfort and luxury of warm water. Without them, we would be taking cold showers and not performing the best cleaning possible. Not only is warm water comfortable, but it also helps to get a better cleaning for your body and dishes, as it can lift dirt and grease. A water heater malfunction can be extremely unfortunate, changing the trajectory of your day. In these cases, it's best to call a plumber in Fort Lauderdale to determine your next steps.
We provide all plumbing services with Broward Plumbing, including pipe and water heater repair in Fort Lauderdale. We are available 24/7 to tend to your plumbing emergencies and inquiries.
Read on to know when to replace your water heater.
Learn more about your water heater.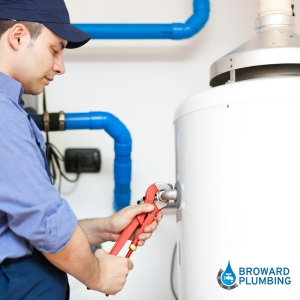 If you are unfamiliar with how a water heater functions, here is a quick rundown. A typical water heater has a lifespan that can range from 10-15 years. There is a fair chance you will have to go through a replacement or a repair as a homeowner. The manufactured year should be on the manufacturer label on the side of the tank. There are two types of water heaters:
Tank-type water heater: Cold water enters through the cold water pipe to the bottom of the tank to be heated by the heating elements. Once the water is hot, it is stored at the top of the tank, ready to be used. The water is continuously heated and stored in the tank when not used.
Tankless water heater: These are seen to be more energy efficient and take up less space. In this type of heater, water is heated on demand rather than sitting in a tank. It produces lower water pressure if they have smaller storage tanks.
You may also consult the internet or a plumber near Fort Lauderdale to learn more about your water heater model and components.
Common Malfunctions of Your Water Heater
Many indicators tell you there is something wrong with your water heater. When noticing these signs, it's best to call your plumber in Fort Lauderdale.
Water is taking longer to heat: When taking a shower or using the sink, if your water takes a long time, this is a valid response to the thermostat or heating elements not functioning in your water heater.
Strange noises: If you notice sounds coming from your water heater, this is a clear indicator of sediment buildup in your tank. A common fix for this issue is by flushing out your water heater. The problem should alleviate itself; however, you may need to call for a water heater repair in Fort Lauderdale if it persists.
Water Discolouration: Brown or yellow water can indicate that the anode rod is malfunctioning, causing corrosion in the inner lining of your water heater tank. Sometimes, you can replace the anode rod; however, it's time for a new water heater if the damage is too far gone.
When to Replace Your Water Heater With Broward Plumbing
Overall, the determining factor as to if you need a water heater replacement comes down to the lifespan of your water heater. If it's reaching the 10-year mark, replacing it may be the right choice, as it wouldn't make sense to repair it when you can avoid regular maintenance. It's best to consult a plumber with Broward Plumbing.