Where to Find Plumbers In Boca Raton
Posted in General Plumbing Services, on November 23, 2021
---
When searching for 'Plumber Boca Raton' or 'Plumber near me Boca Raton' on the net, you might be overwhelmed with the search results!
S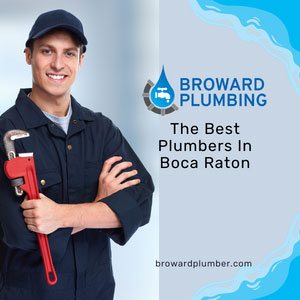 o, how do you begin deciphering who is a reliable plumber in Boca Raton? How can you figure out a good plumbing company from the bad ones? That said, probably the worst time to search for a plumber is when you have a plumbing emergency! So be prepared and read our blog for helpful tips on finding an experienced and affordable plumber that offers everything from general plumbing services to 24-hour emergency plumbing in Boca Raton.
What to Look For
Referrals: One of the best ways to find a reliable and trustworthy plumber in Boca Raton is through networking & referrals. Simply ask friends, family, neighbours, co-workers, or business associates about their known plumbers. If they have a good experience with them, they will happily recommend a reliable plumber in your area. Once you have three to four referrals, you can quickly compare them in terms of reviews, price, workmanship, service etc.
Choosing From Online Plumbers: When seeking a plumber online, don't be daunted by the hundreds of numbers that pop up! And don't choose the first plumbing company you find either! Take time to read through the customer reviews, ratings, and recommendations on their website or online directory. Previous customers leave reviews about the service quality, price and other details about their work. Use these reviews to decide whether you would consider hiring a particular plumber. There will be good and bad reviews, but you will get a general idea about the plumbing company.
Check For Licences, Insurance, & Certifications: License and insurance are vital requirements for a trustworthy plumbing company. A licensed plumber registered with the local or state governing body must adhere to the prescribed licensing rules to offer quality services. Liability insurance protects you against any unfortunate accidents and damages during plumbing work.
Experience: It's always better to hire experienced plumbers, preferably with specific experience handling your particular plumbing concern.
Warranty: Look for companies that offer work warranties to ensure that the plumber is ready to honor and stand by his work. A warranty program can range from a month to 5 years.
Estimated Cost: A reliable and honest plumber will always provide a price estimate with fair and transparent pricing. A trustworthy plumber in Boca Raton will always quote the cost of parts and labour charges clearly in the estimated cost quote.
Services To Look For
While there's no end to plumbing issues, here are some typical plumbing jobs that require the services of a plumber or emergency plumbing in Boca Raton:
General plumbing
Water leak detection
Water damage detection
24-hour emergency plumbing
Sewer backup cleanup
Drain camera inspection
Drain cleaning
Hot water heater repair/replacement
Pipe repair and installation
Plumbing fixtures installation
Waterline or water-main installation & repair
Why Choose Broward Plumbing
When looking for a plumber in Boca Raton, Broward Plumbing is a name you can trust!
A licensed, certified, and insured family-owned plumbing company, we have been proudly serving Broward county and Southern Florida for over 30 years. Be it a plumbing emergency or a general plumbing issue, our expert plumbing technicians have years of experience and training to accurately diagnose and solve all your plumbing problems. We guarantee
Free and transparent plumbing consultations,
Warranty for all services,
24 X 7 emergency plumbing in Boca Raton,
Timely and long-lasting plumbing solutions.
Contact Broward Plumbing for hassle-free & professional plumbing services today!