Why Cast Iron Pipes Need Repair in Boca Raton
Posted in Pipe Repair, on September 22, 2023
---
Cast iron pipe repair is a common problem needed by commercial and residential property owners throughout South Florida. When cast iron plumbing systems start to break down or fail, you'll need a plumber in Boca Raton to assess the situation and determine the best solution. At Broward Plumbing, our licensed and certified plumbers are skilled and experienced at pipe repair, including cast iron and polybutylene repair and replacement. If you notice the signs of cast iron damage, contact our team for an inspection and repairs.
Learn why you should replace your cast iron plumbing infrastructure with Broward Plumbing.
Why Was Cast Iron Pipe Repair Used?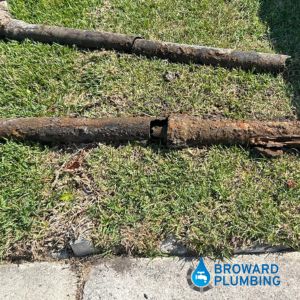 Cast iron pipes are extremely prevalent in South Florida and still remain a commonly found pipe material by plumbing companies in the area. Used for their durability and strength, cast iron pipes were able to withstand the pressure of the earth above them and offer years of functionality. However, since their initial use, cast iron pipes can start to deteriorate from sewage backups, age, calcium buildups, and other damage, causing them to need replacement or repair from trained plumbers in Boca Raton, Fort Lauderdale, and Broward County.
What Happens to Cast Iron Pipes Over Time?
Because cast iron is a ferrous metal, continued exposure to water and oxygen causes corrosion and, in this case, rust. Rusting cast iron flakes and disintegrates. When combined with water flow, flaking rust weakens the structural integrity of the pipe while also increasing the chance of blockages and buildups.
In addition to rust, cast iron pipes can get blocked by mineral buildup. The cities in South Florida have higher mineral concentrations in their water than many other areas around the country, which can leave deposits in the plumbing infrastructure. As these buildups become more extensive, they interfere with the flow of water and cause backups and burst cracks that require cast iron pipe repair or PVC replacement.
Cast Iron Pipes and Bellies
A common problem with cast iron plumbing infrastructure is bellies, which refer to sags or dips in the pipe that are created over time. Sagging in the pipes creates a pool or low point where water and waste can become trapped rather than escaping to the sewer. These bellies slow drainage by creating water accumulations that enable debris blockages and hinder water flow.
As bellies persist without intervention from a plumber in Boca Raton, the weight can trigger cracks and leaks. Furthermore, the stagnant water can trigger contaminated sewage backups and foul odors.
Camera Inspections & Pipe Repair Plumbers in Boca Raton
At Broward Plumbing, our team of experienced plumbers in Boca Raton use advanced robotic camera inspection to get a comprehensive view of your plumbing infrastructure. The camera gives our specialists a 360º view of the pipes so we can see any cracks, blockages, and bellies.
If there is a mineral buildup, our team will descale with fast and effective hydro jetting services. If we notice any fractures to the pipes, we will suggest replacement options to improve your plumbing functionality and property value.
Do you think you need cast iron pipe repair or replacement?