Repair Your Broken, Worn or Bursted Pipes in Fort Lauderdale
If you have leaking, clogged, or broken pipes, it can quickly lead to an extreme inconvenience, as further damage is highly likely. Not only can faulty pipes wreak havoc on your residential or commercial property, but they can end in a costly repair if it's not dealt with on time, causing you to require more plumbing services. Our team of plumbers near Fort Lauderdale recommend scheduling a pipe inspection if you suspect trouble within your plumbing system.
Since malfunctioning pipes are dangerous if not addressed, it's essential to contact a trustworthy plumber to investigate your pipes and diagnose any plumbing issues.
Contact the professionals at Broward Plumbing for fast and effective service in Fort Lauderdale for reliable pipe repair services.
Why Schedule Professional Pipe Repair?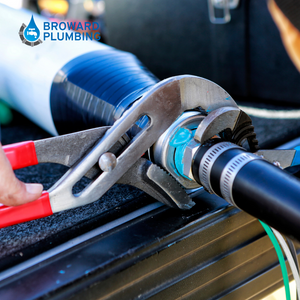 Are you frequently burdened by a leaky faucet or blocked pipes? If so, it may be time to schedule pipe repair services.
One of the most important reasons to hire a professional plumber in Fort Lauderdale is to ensure a fast and effective pipe repair. Although some DIY tips and tricks can assist with issues like clogged pipes or momentarily sealing a broken pipe, it will result in more damage if it's not done right the first time. When the situation becomes urgent, our team of experienced emergency plumbers in Fort Lauderdale know how to approach pipe repairs in a safe and efficient manner, providing customers with peace of mind knowing that their pipes are under control. Burst pipes can tremendously impact your property and health, risking water damage and getting sick from a pipe repair gone wrong. To guarantee a successful pipe repair, hiring a team of trained and certified plumbers is critical to handle the job.
If you experience plumbing issues that never seem to resolve, even after DIY experiments, it's time to reach out to a professional plumber near you in Fort Lauderdale.
Signs You Need Pipe Repair Services
Burst or Clogged Pipes
Fluctuating or Low Water Pressure
Leaky Faucets
Discolored Water with Foul Smells
Loud Noises from Pipes
Your Water Bill Suddenly Skyrockets
Puddles Under Sinks
Your Home or Pipes are Outdated
How to Handle a Burst Pipe Fast
If your pipes burst and it becomes an emergency situation, it's imperative to know what to do at the moment.
Turn Off The Water: Shut off your water supply to minimize the chances of severe water damage.
Drain The Faucets: Open your faucets to drain any remaining water from your pipes to relieve pressure in your piping system.
Contact Broward Plumbing: Contact the team of experts at Broward Plumbing for 24/7 emergency services, and we'll quickly locate and diagnose the issue, saving you time and money.
CALL THE BROWARD PLUMBING TEAM
Expert Plumbers Near You in Fort Lauderdale
At Broward Plumbing, we take pride in providing our customers with the highest-quality plumbing services in South Florida. With decades of first-hand experience and a team of highly trained plumbers, we know just what to do to quickly repair your pipes.
Contact the experts at Broward Plumbing for effective pipe repairs in Fort Lauderdale.