Plumbing Camera Inspections in Fort Lauderdale, Florida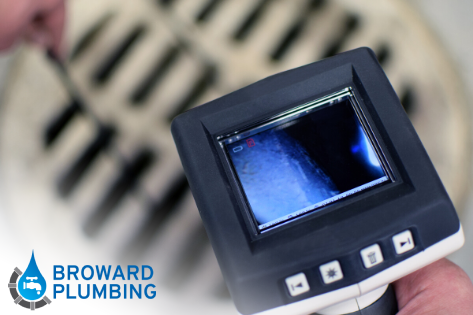 Broward Plumbing offers high-tech plumbing camera inspections in Fort Laurderdale for homeowners concerned about the state of their drains or pipes. Using a specialized robotic video camera, we can diagnose pipe leaks, cracks, and other plumbing issues in both commercial and residential properties.
In recent years Fort Lauderdale has been plagued by broken pipes and sewage spills - with more than a third of these problems located right here in Broward County. The problem lies in the age of the entire system, with more than 45% of pipes being older than 50 years of age. Our location along the coast, and the damaging effects of salt water and sand also contribute to pipe corrosion and damage.
How Does a Plumbing Camera Inspection work?
To solve a problem with your plumbing we have to accurately identify what it is and where it is along your drainage system - which is where our drain camera equipment gives us an advantage. This specialty tool allows our technicians to visually explore the drain system discreetly and accurately, avoiding costly and damaging exploratory work.
Our camera is attached to a 330-foot long cable, which makes it easy to inspect from multiple entry points along the drain line, and helps us determine the size and nature of the blockage. Once your drain camera inspection is complete, our technicians can start solving it - sometimes a simple snaking is all it takes to break up the blockage. Using a drain camera means faster, more accurate, and tidier repairs - good news for our busy lives.
Why Use a Drain Camera Inspection?
This type of plumbing technology allows our technicians to achieve greater accuracy in their plumbing work than traditional diagnostic methods. It's non-invasive and won't cause further damage to delicate or blocked pipes, and can help us reach places that are difficult or dangerous to access. A drain camera inspection also gives us the greatest amount of knowledge about the problem we're facing - which allows us to work together with you to make the best decision for your home.
Drain cameras are excellent tools for identifying problems like old or leaky drains, blocked pipes, and backed up sewers. Some of the repairs we may choose include:
replacing sewer lines
water jet drain cleaning
preventative maintenance
snaking your drain pipe
Hire Broward Plumbing's Drain Specialists!
When it comes to blocked or damaged pipes in Fort Lauderdale, hiring an experienced expert from Broward Plumbing is your best chance at success. Not only will a professional, courteous, and clean technician help you discover what's going on with your plumbing, they'll also have years of experience working with the unique problems that face those of us living in Fort Lauderdale.
If you are experiencing any plumbing issues at your home or business, give us a call at 954-516-7777. As the #1 plumbing company in Broward County, we pride ourselves on same-day service calls and 24 hour service. For general and emergency plumbing issues, call us or or fill out our convenient online form.