Water Line Repair In Fort Lauderdale
Quick Response Times | Flexible Service Options | Affordable Pricing
Water leaking from your water line can be a massive headache. When your water lines breaks it can be a major inconvenience, shutting down your entire plumbing system. To make matters worst, if the water spell is not caught quickly, it can result in thousands of dollars of damage to your home, business, and property.
Broward Plumbing's expert plumbers in Fort Lauderdale are trained in water line repair services and can find and fix any leak, quickly and efficiently.
Why You Need Fast Water Line Repair Services
Your pipes are an incredibly essential part of your home, as they are responsible for bringing water to every one of your fixtures and appliances. However, if the pipes in your home have developed issues, any one of those appliances can be damaged in the blink of an eye. Not to mention that a leaky pipe can cause thousands of dollars worth of water damage if it goes undetected.
Leaking water lines in Fort Lauderdale can cause serious damage to the structural integrity of a home, not to mention the high cost of losing out on water. This is why scheduling water line repair services in Fort Lauderdale immediately is vital.
What Causes Water Lines To Break?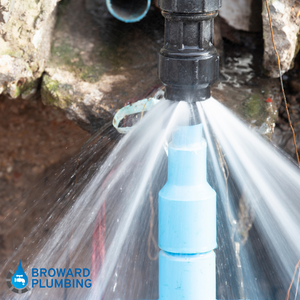 There are many causes of water line breaks, and these should be appropriately addressed. Here are some of the common reasons for water link leaks and breaks:
Poorly installed water line
Damage from tree roots
Sudden and/or significant changes in water pressure
Rusted, damaged or corroded pipes
Extreme weather events
Poor maintenance
Signs Of Leaking Water Lines In Fort Lauderdale
Water lines are essential components in our homes, providing us with water. However, water lines are also susceptible to problems, which can be very serious in the long run, especially if they are not addressed immediately. This is why it is important to identify water line breaks in Fort Lauderdale right away.
Water line breaks are often hard to spot, which makes it even more imperative that you know what signs to look out for:
One of the first signs that you may have a leaking water line is increased water bills. If you notice that your water usage has gone up, but your habits have not changed, it could be because water is slowly seeping from a pipe somewhere.
Another sign to look out for is puddles of water near your home's foundation or in the basement. These puddles could be coming from a leaking pipe underground.
You may also see mold or mildew growing in areas with excessive moisture. This could indicate that there is a leaky pipe hidden behind walls or under floors.
Discolored water, especially with a brownish tint. This is usually an indication of rust or sediment in your water line. In that case, you may need a water line replacement.
Rumbling of pipes, even when water is shut off. This sound, also known as "water hammer," is caused by trapped air bubbles or a blocked pipe.
Finally, if you notice any cracks in your walls, ceilings, or floors, it could be because of leaks in the water lines. Cracks usually form when there is excessive moisture buildup from a leaky pipe.
If you are experiencing any of these signs, it is important to call a plumber in Fort Lauderdale as soon as possible to have the issue diagnosed and have them repair your water line. Ignoring a water line break in Fort Lauderdale can cause extensive damage to your home, not to mention the high cost of wasted water.
Leak Repair Services From Broward Plumbing
Have you experienced a water line leak? If so, your property is at risk for more extensive damage if not properly addressed in a timely manner. At Broward Plumbing, our plumbers quickly assess the issue, repair the leak and restore your plumbing system to proper service.
Broward Plumbing has years of experience with water line repairs in Fort Lauderdale and the related issues that occur when a leak is present. Utilizing the latest technology and equipment, we are able to quickly diagnose and fix the problem with minimal disruption to your property. We are your 24/7 emergency plumbers in Fort Lauderdale.
If your home has water line leaks, our team of plumbers in Fort Lauderdale will diagnose the problem, fix the leak and restore your plumbing system to proper service.
Contact our Plumbers in Fort Lauderdale Today!