Water Line Repiping in Fort Lauderdale, Florida
If you find yourself hit with plumbing issue after plumbing issue. You may need to reach out to plumbers near you in Fort Lauderdale for water line repiping. Damage from calcium or mineral build-up, burst pipes, and corrosion can leave your plumbing systems ineffective.
If you notice low water pressure, foul odours, noises from your pipes, or metal tastes in your water, don't wait it out. Save time and money. Contact the best plumbers in Fort Lauderdale – Broward Plumbing, to get your plumbing back in order with water line repiping services. Our team of plumbers is licensed, insured, and has years of experience.
Why Get Your Property Repiped by Professional Plumbers?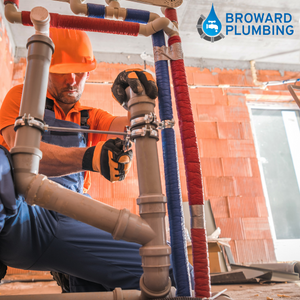 If you experience frequent plumbing trouble, it may be time to repipe your property.
Water line repiping is when old or damaged water pipes are replaced with a new hot or cold plumbing system. Repiping your property prevents constant plumbing problems like leaking faucets, drain clogs, surging water, water pressure issues, low water pressure, and intermittent hot or cold water loss. Outdated or older pipes can significantly reduce water pressure on the entire property. Not only does this result in the inability to maintain water pressure in the sink or shower, but it threatens fire safety due to insufficient water flow in the event of a fire.
At Broward Plumbing, we install the following components:
New copper PEX piping
PVC piping systems
Drain piping systems
Reach Out To Our Plumbing Experts Today!
Signs You Need Water Line Repiping
Both residential and commercial water lines are susceptible to damage like mineral buildup or high water pressure. If the pipes in your water line are leaking, clogged, or broken, it's crucial to get them repaired and repiped as soon as possible to prevent water damage or a failing plumbing system. By scheduling water line repiping, you can control your plumbing system from extensive damage, saving you from frequent repair costs.
Visible corrosion on pipes
Frequent leaks or burst pipes
Problems with your water pressure
Clogged or blocked drains
Increase in water bill without changes in usage
Change in the taste, smell, or color of your water
The pipes in your home are old or noisy
Constant temperature fluctuations
If you suspect your water line needs repiping, reach out to a professional plumbing company. For professional plumbing services in Fort Lauderdale, contact Broward Plumbing for reliable services.
Expert Plumbers Near You in Fort Lauderdale
When searching for plumbers near you in Fort Lauderdale, you'll want to hire a team of professionals that are trained and highly skilled in water repiping services, ensuring all plumbing issues are effectively resolved.
At Broward Plumbing, our team of experts knows what it takes to get the job done right. With years of industry experience, 24-hour service, and certified plumbers, you can trust our team to effectively repair any plumbing issues you may have.
Does your property need water line repiping? Contact Broward Plumbing for fast services.