Drain Cleaning Services in Hollywood, Florida
It's common for your drains to become clogged for numerous reasons like hair, soap, dirt, food waste, mineral buildup, and much more. If you've tried several DIY cleaning tricks to unclog your drain and it's still not draining correctly, you likely need drain cleaning services done by professionals. Plumbing camera inspections can identify any clogging in your pipes without causing significant damage to your property. At Broward Plumbing, our team of plumbers in Hollywood use the latest plumbing technology to uncover any issues quickly and efficiently.
Contact a professional plumbing company near you if you suspect any drain issues.
Signs Your Drain Needs a Professional Cleaning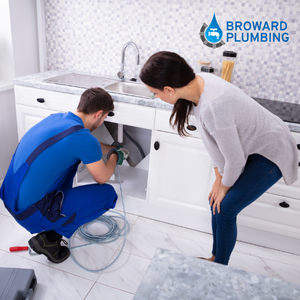 There are many signs that your drain needs professional cleaning services, such as:
Your water doesn't flow easily down the drain
Poor drainage
Foul odors when water is running
Gurgling & other strange noises
Your gutters haven't been cleaned in over a year
You've tried drain cleaning products that don't work
If you notice any of these issues, contact expert plumbers in Hollywood for drain cleaning services in Hollywood.
Why Your Drain May be Clogged
There are various reasons why your drain may be clogged. However, the main reasons are typically tub and shower accumulation, plumbing system installation errors, and food/grease buildup.
Tub & Shower Accumulation: Soap scum, dirt, skin, and hair will accumulate in showers and bathtubs, causing clogging within your drains.
Plumbing System Installation: If your plumbing system was installed incorrectly, it could permit clogs. To ensure you have the best luck against clogging, it's a good idea to hire a professional plumbing company.
Food/Grease Buildup: One of the biggest reasons for blockage in the drains is food waste, grease, oil, and fat buildup. To avoid these issues, it's imperative not to pour grease or other oily and fatty substances down the drain.
Why Get Drain Cleaning Services?
Drain cleaning is essential for removing hair, soap scum, debris, food waste, and much more. Drain cleaning does not simply unclog the drain but cleans out the depths of your gutters. No matter how carefully you clean your drains, you can't prevent soap scum, dirt, skin, and hair from going down the drain - it's bound to happen. In addition, toilets become clogged due to toilet paper, wipes, diapers, and more. Although, a drain cover can be used in your kitchen sink, bathroom sink, shower, or bathtub to lower the risk of clogging. Since drains are not visible, our state-of-the-art plumbing camera inspections are used to identify any clogs or blockage using a high-quality video camera.
Contact the professionals at Broward Plumbing to ensure your drain is cleaned effectively.
Save Money With Regular Drain Cleanings
You should get your drain cleaned yearly to ensure proper drainage and discover any possible drain issues. Although, you can get your drain professionally cleaned every 1-2 years to keep it running smoothly. Annual drain cleanings effectively remove gunk and debris from your plumbing system. Clearing out your pipes that form major blockages reduces the risk of plumbing repairs. Ultimately, getting annual drain cleanings saves you money and gives you peace of mind throughout the year.
Professional Drain Cleanings in Hollywood
If you need a professional drain cleaning in Holywood, Florida, look no further than Broward Plumbing for top-tier services and affordable pricing.
Why Choose us:
24-hour Service
10+ Years of Experience
Dedicated & High-Quality Service
Certified & Licensed
Service Warranties