General Plumbing Services Offered In Parkland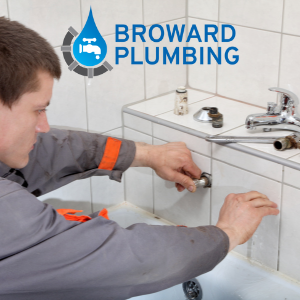 A general plumber in Parkland does precisely what the word implies, a complete and all-inclusive service for various general plumbing issues. Broward Plumbing is one of the foremost plumbing companies in Parkland, offering premier commercial and residential plumbing services for over 10 years. Our commitment to quality, customer focus, and reliable plumbing services have earned us the honor of being one of the most preferred plumbing companies in Parkland. We strive to offer prompt, professional, and customer-friendly services for all of your general plumbing needs. All at prices that are transparent and affordable! Whether you have a minor concern or a significant plumbing issue, our skilled team can take care of it.
General Plumbing Services We Offer
Plumbing Installation & Replacement
Kitchen & Bathroom Faucets
Drain & Toilet Clogs
Drain Camera Inspection
Shower & Sink Repairs
Re-piping & Pipe Repair
Hot Water Services
Garbage Disposals
Trenchless Sewer Repair
Sewage Backup Cleaning
Plumbing Leak Repair
Drain Cleaning & Repair
Water Line Repair
Water Leak Detection
Water Damage Repair
Equipment We Service
We all use a plethora of different plumbing equipment at our homes and offices. While they make our lives convenient, we also need to take good care of them. Ignoring minor issues can prove to be an expensive plumbing mistake! So at the first signs of trouble, contact an experienced plumber in Parkland right away. Here are some general repair services Broward Plumbing offers for plumbing equipment and fixtures:
Faucets, showers, toilets, tubs, sinks, sump-pumps
Water Heater, water lines, supply lines, sewer lines
Shut-off valves, ball valves, back-flow valves, pressure-reducing valves, and more!
Whatever the problem you are experiencing with the above equipment, trust the experts at Broward Plumbing to solve it quickly and effectively.
Why Choose Broward Plumbing
Choosing Broward Plumbing means choosing one of the most experienced and competent plumbing companies in Parkland. A local and family-run business, we have been serving residential and commercial properties throughout the region for years. When you hire Broward, you are assured of:
A licensed, trained, and insured team of plumbing technicians.
Team Broward boasts of skilled and experienced plumbers who know their job. Our licensed plumbing technicians know the what, why, and how of all your plumbing problems.
Prompt services that are effective, friendly, and courteous.
We value our customers, take pride in our commitment to work, and strive for 100% customer satisfaction. Our plumbers know the value of time, especially in plumbing emergencies! They offer practical advice and recommendations that save you both money and time.
Transparent, honest prices.
Our plumbers will work with you to devise lasting solutions that meet your budget and expectations at prices that are transparent, fair, and affordable. We offer free estimates–online, on-site, and over the phone.
Cutting-edge plumbing technology.
We use advanced technology like drain cameras, hydro-jetting, etc., for effective plumbing installations and repair work.
A plumbing contractor with integrity.
We at Broward stand by our work & installations and back them up with warranties and service programs.
24-hour Emergency plumbing services.
Our plumbers will be there whenever you need us. We are available 24/7 for your convenience!
Broward Plumbing: Your Trusted Partner for Smart Plumbing Solutions
If you're looking for a plumber in Parkland, look no further than Broward! We are fast, reliable, & professional. Call us for all your routine, and emergency plumbing needs today!