Detect Water Leaks Quickly in Tamarac, Florida
An undetected water leak in your home can make for a stressful situation for anyone on your property. Postponing a water leak detection in Tamarac, Florida, results in further damage and costs.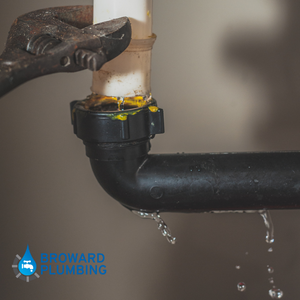 Your home means the world to you, and we want to help keep it free from leaks and floods. The professionals at Broward Plumbing are experts in finding hidden leaks and repairing them in no time.
Signs of Water Leaks
Early water leak detection in Tamarac, Florida, can save you money and avoid potential catastrophes in the long run. Below are some signs that you should not ignore:
Higher than average water bills
Peeling on paint/wallpaper
Unusual noises from pipes
Sagging ceilings
Dark water stains or spots on ceilings, walls, or floors
Change in water pressure
Whether you're worried about a potential pipe burst or an ongoing and unnoticed leak, a water leak detection can give you the peace of mind you need. Get back to affordable utility bills, sufficient water pressure, and feeling safe in your home with professional plumbers in Tamarac.
Concerned about a potential leak? Get it fixed before the problem worsens.
It's Time to Act Fast
A leak left undetected is a disaster waiting to happen.
If pipes are hidden and not inspected, small leaks can be left unnoticed and slowly drip water for weeks or even months to years. If this occurs, moisture, mold, and mildew will quickly grow and is a health risk to those living in the home. Not to mention, the damage could compromise your home's structural integrity.
Our plumbers in Tamarac use advanced technology to detect hidden leaks that are not visible to the eye. We use heat scanners to pick up temperature changes and inspection cameras for extra information regarding the leak. We complete a non-invasive leak detection whenever possible using our state-of-the-art plumbing tools and equipment.
What To Do When You Have A Leak:
Call Broward Plumbing for 24/7 emergency plumbing services.
We show up in 1 hour or less to perform water leak detection.
We'll provide a thorough report and fix the problem quickly & efficiently.
Don't wait for the leak to happen. Contact Broward Plumbing for water leak detection.
Exceptional Water Leak Detection in Tamarac, Florida
At Broward Plumbing, we always provide an honest and thorough water leak detection report for all insurance companies. Our mission is to deliver our customers reliable and trustworthy work that they can always count on, even in an emergency.
What we offer:
Repairing & cleaning of any damage
Direct insurance billing
Restoration services
Sewer backup cleanup
Drywall & plaster removal
Water damage restoration
Full-line construction
And more!
We pride ourselves on providing our customers with the best service possible. From start to finish, we are determined to get your plumbing back to running like normal. For affordable pricing, quick repairs, and 24-hour emergency plumbing services, reach out to the professionals at Broward Plumbing today.
Ready for a water leak detection?