3 Things To Remember About Your Water Heater
Posted in General Plumbing Services, on October 11, 2021
---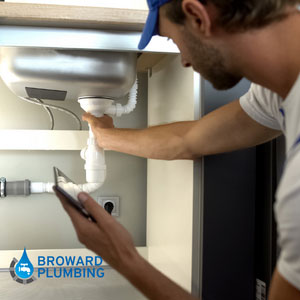 Water heaters are an intrinsic part of most modern homes in Broward county. This underappreciated appliance is responsible for the luxury of having 24-hour hot water in our homes. From warm showers to washing dishes, the hot water heater is the proverbial workhorse of the house. However, problems, including water heater leaking, are common and often need the guidance of an expert plumber near Boca Raton. Explore the basic things to keep in mind regarding water heaters, including water leak detection, maintenance, and replacement.
The team at Broward Plumbing offer expert installations and water heater repair in Boca Ratona and Broward County.
Read on for the 3 water heater essentials to remember:
1. Corrosion
Water heaters tanks are also prone to corrosion. With constant contact with hot water, the water tank can rust and leave property owners of water heater repair in Boca Raton. The buildup of sediment also causes decay that can eat through the tank leading to water heater leaking. Water heaters are fitted with anode rods to soak up corrosion and sedimentation. These anode rods last around 3-4 years, after which they should ideally be replaced. An annual water heater maintenance service from Broward Plumbing can ensure that the anode rod is working correctly. We can also safely drain the water tank to flush out the accumulated limescale. Installing a water softener can reduce buildup and extend the lifespan of your heater.
2. Heat loss
The heat that is wasted from your water heater tank is referred to as standby heat loss.
Though most tank water heaters today are energy efficient & well insulated, there is still some minimal standby heat loss. If your heater takes a long time to heat the water, get it inspected by a reliable plumbing professional. Keep standby heat loss in mind when you are looking to replace your old water heater. Tankless water heaters can be an excellent money-saving option as they don't waste energy due to heat loss and don't need to constantly heat up a big tank. However, some retrofitting may be required for tankless water heaters.
3. Water Heater Leaks
The most typical problem with hot water heaters is a leaking tank. Leaks can be caused by various issues, and it is always advisable to call a professional plumber for water leak detection and repair. While many of you might be tempted to try a DIY fix, it is not a good idea. The combination of water and electricity is tricky; better let an expert handle it. Also, placing the water heater in a drain pan with the piping connected outside your house can help avoid potential water damage.
An average residential water heater lasts around 8-12 years, depending on the usage, water hardness, and maintenance. The older your appliance, the greater the risk of water heater leaking and consequent damage. The experts at Broward Plumbing recommend regular annual water heater maintenance for water leak detection. Regular maintenance by an experienced plumber will prevent sediment buildup and corrosion, ensure optimal performance, and save money in the long run. More importantly, it will protect you from unexpected failures, injuries, and potential water damage.
Water Heater Woes? Contact Broward Plumbing
Don't try DIY with your water heater! Trust Broward Plumbing for all your water heater and other plumbing needs. From installation and maintenance to flawless repairs, Broward Plumbing will take care of it all! Our licensed plumbers can also help you replace your old heater or switch to tankless water heaters. Call us to schedule a service or request a free consultation today!