Request a Quote
Request A Plumbing Service Quote
Toilet Repair & Installation Services In Broward County
Get the most reliable and trust worthy toilet repair and installation services with the top plumbers in Boca Raton, Fort Lauderdale, and throughout Broward County.
We provide reliable, affordable and speedy toilet repair, installation and replacement services in Broward County. Whether you're planning an upgrade or need an emergency plumber near Boca Raton, Fort Lauderdale, Tamarac, or elsewhere in the Broward County area, Broward Plumbing is equipped with licensed and insured teams ready to serve you within 45 minutes.
Look no further than Broward Plumbing for emergency toilet repair services in Broward County. We are your one-stop shop for toilet removal and installation services in Broward County.
Our team of highly qualified and experienced plumbers can handle all your toilet problems, big and small, including toilet repair, toilet leak repair, toilet replacement and toilet installations. We offer some of the most affordable pricing you will find in the area.
Do You Need Toilet Repair Services?
Toilet Keeps Running
Holding Tank Is Filling Up
Poor/Weak Flush
Tank Fills With Water After Every Flush
Takes Too Long To Fill Up Tank
Tank Whistles
Flappers Leaking
Handle Wobbles
Fills Up Too Much
Overflowing Toilet
Making Funny Noises
Clogged toilet
If you answered yes to any of these questions, contact Broward Plumbing. Our expert plumbers in the Broward County area can install new toilets, fix broken toilets, fix toilet fill valve issues, repair leaks from toilets, fix slow-running toilets, and fix noisy toilets.
Clogged Toilets Repair
One of the most common issues we see with toilets is clogging. If your toilet is constantly becoming clogged, it may be time for a toilet repair or replacement. We'll inspect your toilet to determine the root of the problem and recommend the best course of action to take. A simple toilet repair in Broward County will do the trick in many cases. However, if the issue is more serious, we may recommend a complete toilet replacement. Either way, we'll ensure your toilet is functioning correctly before we leave.
Leaking Toilet Repair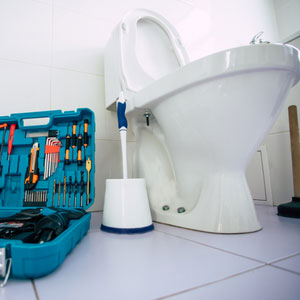 If your toilet is leaking water, there's a good chance that the wax ring has deteriorated and needs to be replaced. Old wax rings don't stay stuck to the toilet bowl, causing leaks, and they don't seal properly against the pipes so water can seep up through. A leaking toilet can be a big problem. Not only does it waste water, but it can cause additional damage to your home or business. If you have a leaking toilet, call Broward Plumbing for the best toilet repair services in Broward County.
Running Toilets Repairs
A running toilet can be a real nuisance. After flushing your toilet, you should expect the water to stop running once the toilet is full of water. Toilets that continue to run are an indication of an internal leak. Not only is it wasting water, but it can also drive up your water bill. In addition, a running toilet can damage your floor and furniture. If you have a running toilet, it's essential to have it repaired as soon as possible. We'll inspect your toilet to determine the cause of the leak and make the necessary repairs.
Toilet Installation Services
When you need new toilet installation services, Broward Plumbing is here to help. We understand that toilets are an important part of every home and business, so we take every toilet installation job seriously. Our plumbers in Fort Lauderdale, Boca Raton, and Broward County guarantee that you'll be 100% satisfied with our work. We'll work around your busy schedule to ensure the job gets done right.
Updating an older toilet can have many benefits. Newer toilets can save up to 4,000 gallons per year, have a longer warranty, are ADA compliant, and reduce the risk of future leaks, clogs, and other plumbing issues.
If you need a new toilet installed, don't hesitate to call us. We're a team of highly-qualified plumbers that offer expert service on time and on budget.
Why Choose Broward Plumbing
Our plumbers in Fort Lauderdale and the surrounding Broward County area offer expert service on time and on budget. Plumbing is an integral part of every residential and commercial property, so we at Broward Plumbing take every job seriously and guarantee you're 100% satisfied with our work.
Realizing plumbing issues can happen at any time and can be inconvenient, you may not have time to wait for a professional plumber nearby to take your call, or perhaps you don't have the money to pay for service with a plumber that doesn't guarantee you'll be happy with the outcomes. That's why we've designed our plumbing repair and installation services to cater to your busy schedules and tight budgets.
The toilet repair & installation services in Broward County, FL, by our highly skilled plumbers.
Our toilet repair services in Broward County are available 24 hours a day, 7 days a week.
Our plumbers are skilled, experienced, and professionally trained with many core values that ensure smooth workflow, timely response, and a high level of customer satisfaction.
Our plumbers give a transparent estimate to every client before fixing any plumbing-related issue at their home or business property.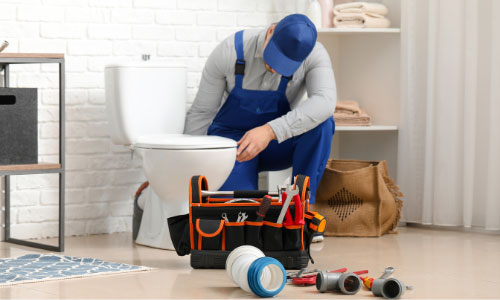 Here at Broward Plumbing, we offer some of the best certified plumbing technicians who have years of experience & work with many different brands. If you're searching on google for a full-service 'plumber around Broward County,' give us a call!
We provide all kinds of plumbing services and cover a large area of South Florida, including: Fort Lauderdale, Davie, Coral Springs, Pompano Beach, Weston, Boca Raton, Parkland, South West Ranches, Weston, Hollywood, Deerfield, Boynton, West Palm Beach, and Pompano Beach..