A Licensed and Insured Plumbing Company for Commercial & Residential Properties
We Are Fully Licensed & Insured Plumbers in Fort Lauderdale and nearby areas.

Plumbing emergencies in Fort Lauderdale happen all the time. From heavy rain to flooding, having a trusted plumber near Fort Lauderdale is essential with the unexpected weather in South Florida.
At Broward Plumbing, our emergency plumbers in Fort Lauderdale are highly skilled in tackling any plumbing issues you may have. Our team comprises state-insured and licensed plumbers servicing Fort Lauderdale, Boca Raton, Hollywood, and surrounding areas.
Signs You Need ‌to‌ ‌Call‌ ‌a‌ ‌Plumber‌ ‌in‌ ‌Fort‌ ‌Lauderdale‌
Plumbing disasters can strike your home anywhere, anytime! While some may be considered emergencies, others can wait a while. DIY fixes may seem more accessible and cheaper, but it's advised to leave it to the pros.
Here are a few of the most common plumbing issues that may require a certified plumber near you in Fort Lauderdale.
Running Toilet: Do you know that a single running toilet can waste up to 300 gallons of water daily? Not only does it hike up your utility bill, but it also wastes precious water resources. Usually, the problem can be fixed by checking the cistern, but if the toilet is still running, consider calling an experienced plumber.
Clogged Drains: Are your drains not draining really slowly or have a foul odor? Hair, food particles, soap scum, and mineral buildup may obstruct your pipes. Plungers and drain cleaning solutions are usually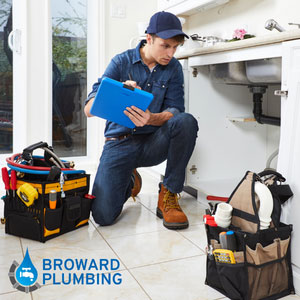 insufficient to clear a clogged drain. In fact, pouring harsh chemicals down the drain can worsen the problem. Clogs can also mean significant issues with your plumbing that may require extensive repairs. Contact Broward Plumbing to inspect your pipes and install drain screens to minimize future clogging.
Toilet Overflows & Clogs: A clogged and overflowing toilet can certainly ruin your day. Clogs and overflows indicate an obstruction or blockage in the toilet drain. Sewage backup or septic tank issues could prevent toilet waste from flushing down the drain. If you experience a toilet overflow, turn off the water supply to the toilet and call an emergency plumbing company in Fort Lauderdale ASAP! Not only can water damage ruin your home, but it can also be a health risk due to bacterial contamination.
Hot Water Woes: Are you experiencing cold water after only 5 minutes in the shower? The pleasures of a hot bath and simple chores like dishes and laundry may be unbearable without running hot water. If your water heater is making strange noises, is 7-10 years old, or has water leaking around the outside, it's crucial to contact a trustworthy plumbing technician.
Low Water Pressure: If your water pressure is constantly down, it could signify a larger plumbing disaster waiting to happen. Faulty fixtures, clogged pipes, or corroded plumbing may be behind that weak water stream. Never ignore consistent low water pressure; contact a professional plumbing company in Fort Lauderdale to diagnose and solve the problem.
If you think calling in an emergency plumber in Fort Lauderdale will cost you an arm & a leg, think again! With Broward Plumbing, you'll save hundreds of dollars in probable repair costs by plugging that problem early.
Emergency Plumbing Services in Fort Lauderdale
Wondering what to do in an emergency situation? Sewage backups, pipe bursts, or overflowing toilets can be highly stressful, so it's important to have a trusted Fort Lauderdale plumber on speed dial.
Don't Stress; at Broward Plumbing, we offer 24-hour plumbing services, 7 days a week, and show up in 45 minutes or less to effectively resolve your plumbing emergency.
Contact Broward Plumbing for emergency plumbing services in Fort Lauderdale.
Other Indications of Plumbing Issues
Strange Noises: Unusual noises, like clattering or gurgling sounds, can mean that your pipes are loose or that there's an issue with your water flow and pressure.

Toilet Filling Up Frequently: A toilet overflowing and/or filling up quickly usually means a water leak from the reservoir into the bowl. This issue can be solved by lifting the cable; otherwise, you likely need plumbing services in Fort Lauderdale.

High Water Bills: High water bills can indicate that you have a leaky pipe or faucet. At Broward Plumbing, we offer high-quality water leak detection services and water damage detection, so we can quickly resolve the issue.

Rusty Pipes: Rusty or discolored pipes typically indicate moisture present, meaning there could be a potential leak in the joint or dripping drain. Contact an experienced plumber near Fort Lauderdale for top-quality services.
Our Plumbing Services in Fort Lauderdale Include:
Drain Cleanings & Declogging
Emergency Plumbing Services
General Plumbing & Repairs
Pipe Repair, Plumbing Camera Inspection & Plumbing Leak Repairs
Sewage Backup Cleanup & Sewer Line Repair
Toilet Repair & Installation
Water Damage Detection, Water Heater Repair, Water Leak Detection, Water Line Repair & Water Line Repiping
Looking for a reputable and experienced plumber in Fort Lauderdale with reasonable pricing, excellent service, and high-quality work? At Broward Plumbing, we guarantee to offer you professional and practical solutions at a cost-effective price.
Why Choose Our Plumbers in Fort Lauderda;e?
Broward Plumbing is family-owned and operated, and our plumbing company offers highly educated, certified, licensed, and insured plumbers in Fort Lauderdale, Coral Springs, Tamarac, Pompano Beach, and nearby areas.
We use top-of-the-line technology and equipment to identify any plumbing concerns you encounter. Our team specializes in residential (including homes, condos, and apartments), commercial (small or large scale), and industrial properties. We warranty all our repairs and installations and guarantee 100% customer satisfaction.
Top-Rated Plumbing Services In Fort Lauderdale and Nearby Areas
At Broward Plumbing, we are committed to providing our customers with quality workmanship and exceptional customer service. Our plumbers in Fort Lauderdale have decades of experience and can handle everything from leak detection to sewer re-piping.
If you have a plumbing emergency and need a plumber near you, Broward Plumbing responds quickly, with services available 24/7 and arrival within 45 minutes. We provide transparent pricing for all jobs, so you know exactly what your repair or installation will cost before we start working on your home or business.
Choose the Reliable Plumbers Near Fort Lauderdale: Broward Plumbing
Broward Plumbing services a variety of locations, including Boca Raton, Fort Lauderdale, West Palm Beach, Coral Springs, Boynton, Delray Beach, Pompano Beach, Parkland, Weston, Hollywood, Plantation, Deerfield, and South West Ranches.