Request a Quote
Request A Plumbing Service Quote
Cast Iron Pipe Repair in Broward County
Was your property built before 1980? You may have cast iron pipes that require maintenance or replacement services.
If you notice frequent plumbing trouble, it could indicate that you need to schedule cast iron pipe repair services in Broward County.
When dealing with a significant plumbing issue like poor cast iron pipes throughout your home or commercial property, it's critical to reach out to our professional plumbers in Broward County to guarantee you receive top-of-the-line service, equipment, and customer satisfaction from Broward Plumbing.
With a high level of knowledge and experience, you can trust that the professionals at Broward Plumbing can provide high-quality cast iron sewer line repair or replace replacement. Broward Plumbing provides high-quality pipe replacement and cast iron pipe repair with expert plumbers in Boca Raton, Fort Lauderdale, Tamarac, Boynton Beach and Broward County area. With years of experience and local operations, we can deliver reliable plumbing services that save you money and stress in the long run.
Signs Your Cast Iron Pipes Need Repairing
Are you experiencing recurring plumbing issues like sewage backups or leaks? Do you notice a foul smell while your water is running?
If you fail to repair your cast iron pipes, your property value will depreciate. Cast iron pipes can quickly become clogged from calcium buildup or blocked by waste or corrosion, significantly slowing down water drainage. The obstructed water flow can cause wastewater from your property to build up in the pipes, ultimately leading to sewage backups. Cast iron pipes can experience pressure and heaviness, permitting them to sink into the ground and crack, leading to higher plumbing repair costs.
Below is a list of possible signs that your cast iron pipes need to be repaired.
Your pipes are over 50 years old
Frequent sewage or toilet backups
Recurring leaks
Several drain clogs or poor drainage
Foul smells from sewer gasses
Strange noises like gurgling
Water damage on carpets, rugs, floors, etc.
Discolored or stained tile grout
Raised, loose, or broken floor tiles
Pest infestations
Over time, your cast iron pipes can develop a belly or sag, leading to standing water and sediment buildup, causing blockage, erosion, and sewage backups. Abundances of waste like food, toilet paper, and debris can get trapped in the bellies of the warped pipes, so it's essential to handle the problem immediately to prevent backups that are hazardous to your health.
To avoid messy, unsanitary, and costly plumbing repairs, plumbers in Boca Raton and Broward Coutny at Broward Plumbing, recommend getting your pipes repaired.
Get your cast iron pipes repaired today.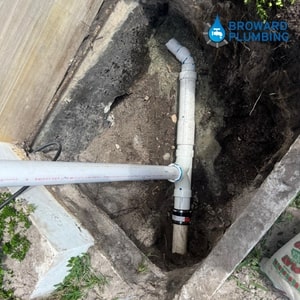 How Broward Plumbing Assesses The Problem
At Broward Plumbing, we take pride in leveraging state-of-the-art technology and equipment that allows us to thoroughly diagnose, repair, and solve plumbing issues promptly.
To determine if you need a cast iron pipe repair, the plumbers in Fort Lauderdale, Boca Raton, Boynton Beach, and Broward County at Broward Plumbing will conduct a 360º camera inspection and check for cracks and the condition of the cast iron pipes. Our team of experts will then decide if your pipes need maintenance or to be replaced.
Cast Iron Pipe Repair Service Options
Did you know that replacing your home with PVC pipes can increase your property value by $20,000 to $30,000+?
Maintenance: If your pipes are in stable condition and can be maintained, you can schedule maintenance services instead of replacing the pipes. Our plumbers in Broward County will use high-pressure water jetting to clear clogs and buildup, extending the lifespan of the pipes by 10 years.
Replacement: Our plumbing technicians will inspect your pipes for cracks that indicate a replacement is needed. If your pipes have hairline cracks, it means that your pipes are going to collapse, and they need to be replaced as soon as possible. Depending on your preferences and needs, we offer trenchless and non-trenchless pipe repair options.
Service Option: If your property has cast iron pipes on the inside and outside of your property, you can choose to only replace the outdoor pipes with PVC. Doing so extends your plumbing system's lifespan and raises your property value.
Don't wait for corrosion buildup - schedule preventative maintenance from Broward Plumbing to avoid high costs and significant damage to your residential or commercial property. Broward Plumbing is locally owned and operated. Our teams of a thorough understanding of plumbing infrastructures and regulations allowing us to deliver the best cast iron repair in Fort Lauderdale, Boca Raton, Tamarac, Parkland, and elsewhere in Broward County.
Benefits of Switching to PVC Pipes
Before PVC pipes were invented, cast iron pipes were widely used in homes built before the 1980s to transport water, sewage, or gas to the main sewer line. Cast iron pipes fail over time, and switching to PVC pipes not only increases the value of your home, but it provides many benefits to your plumbing system and wallet.
Some benefits include the following:
Corrosion/chemical resistance
Improved water quality
Free from bio-film contamination
Prevents unnecessary water waste
Enhanced energy efficiency
Reduces blockages
Long service life
Leak-free joints
Smooth running plumbing/healthy pipes
And much more!