Trusted Plumbers in Coral Springs, Florida
At Broward Plumbing, we are fully licensed, insured, and certified in a wide range of general and emergency plumbing services.
Whether you're a residential or commercial property owner, an issue with your plumbing system can damper your day. Without adequate plumbing, essential and everyday plumbing use becomes challenging to manage. Don't let appliance malfunctions, leaks, or clogs put a hold on your day. Below are signs indicating that you need to search for "professional plumbers near me in Coral Springs, Florida.
Signs You Need a Plumber in Coral Springs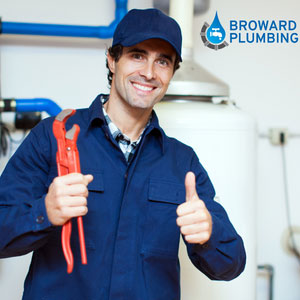 To avoid plumbing emergencies, it's essential to know when it's time to reach out to plumbers in Coral Springs. Though plumbing emergencies like flooding or pipe bursts are much easier to detect, there are some signs to look for if you suspect your plumbing system needs to be repaired. Instead of searching for any plumber in Coral Spring choose the experts at Broward Plumbing to diagnose and repair your plumbing issues in no time.
Signs You Need a Plumber:
High water bill with no change in usage
Low water pressure or no hot water
Discolored water
Leaks or pipe bursts
Clogged or slow drains
Foul sewage smells
Strange gurgling noises in drains
If you notice any of these signs, it's important to contact expert plumbers in Coral Springs for effective and affordable services. The team at Broward Plumbing has years of first-hand experience in all types of plumbing services and repairs. For reliable and trustworthy work, look no further than Broward Plumbing.
24-Hour Emergency Plumbing Services
Plumbing emergencies can happen anytime and typically don't occur during regular work and business hours. Thankfully, the team at Broward Plumbing offers same-day, 24/7 emergency services, 7 days a week. Regardless of the day or time, you can count on our technicians to effectively fix your plumbing emergency with ease. Start feeling safe knowing that Broward Plumbing is just an hour or less away with fast and reliable 24-hour emergency plumbing services in Coral Springs.
Common Plumbing Emergencies:
Sink or toilet overflow
Leaking or burst pipes
Sewage or drain backups
Easy as 1, 2, 3!
Call us for plumbing emergency services.
While you wait, take the best preventative measures and follow the plumbers' instructions.
We will arrive in 1 hour or less!
General & 24 Hour Plumbing Services in Coral Springs
The team at Broward Plumbing has years of experience in all types of general and emergency plumbing services, so you can trust us for effective workmanship. Regardless of your plumbing issue, we're here to help!
We offer a variety of services, including:
Repairs & installations
Water filtration
Garbage disposal repair
Re-piping & pipe repairs
Water damage detection & repair
And much more!
View more of our plumbing services!
Top-Tier Plumbing in Coral Springs, Florida
If you're looking for a dependable and trustworthy plumbing company offering 24 hour emergency plumbing services in Coral Springs and throughout Broward County for any of your plumbing needs, choose the professionals at Broward Plumbing. With fast, effective, and outstanding work, we promise to ensure you're satisfied and that all plumbing issues are resolved.
Say goodbye to waiting hours or days for plumbers. At Broward Plumbing, we're available around the clock for plumbing emergencies in Coral Springs.