Request a Quote
Request A Plumbing Service Quote
Trusted Water Line Repair Services in Broward County
Water Lines can be vulnerable to high water pressure, damage, mineral buildup, tree roots, and overall deterioration. When one or more of these issues directly affects your water line, a range of problems can occur, including water discoloration, and reduced water pressure. Ignoring some of these warning signs can lead to catastrophic plumbing emergencies later on! If you are looking for water line repair in Fort Lauderdale, Tamarac, Hollywood and elsewhere in Broward County and Boca Raton, we are here to serve you.
With Broward Plumbing, you will receive high-quality water epair services that will be completed and accurately. Our state-licensed and insured plumbers in Boca Raton, Fort Lauderdale, and Broward County provides high-quality water line repairs with reasonable upfront pricing. We can diagnose any water line issue at your residential or commercial property, and we are highly capable of making underground water line repairs in Broward County.
Professional Water Line Repair Plumbers
There is no problem too big or too small for a professional plumber. We service water line leaks and breaks, as well as clean or replace water lines. We use equipment and technology that will ensure the quality of our water line repair services. Oftentimes, water lines are taken for granted. They are buried underground and out of sight. However, if there is a problem with the water lines that are servicing your home or business, it could be a very expensive one. That is why it is important to request professional water line repair services from the best plumbers in Broward County and South Florida.
Benefits of Water Line Repair Services
If you are having problems with water around your property, it's likely that some sort of pipe has leaked or burst. When this happens, the pipe needs to be fixed as soon as possible. We specialize in water line repair services to handle any problem quickly and effectively. Here are the benefits of our water line repair services:
The time it takes for a plumber to arrive at your home will usually be a matter of minutes, not hours.
A broken water line can quickly cause thousands of dollars worth of damage to your property, so you need a professional plumber who can work with speed and efficiency.
If there is a sudden leak somewhere in your house, you will want someone to respond as fast as possible. When you call us, we'll get there quickly.
Water lines are important pieces of plumbing equipment and they need to be inspected regularly before they start to leak or break down. If you don't know how to inspect the pipes already installed, you are asking for trouble. You can rely on us to check the status of your water lines regularly and fix any problems before they occur.
You may not know how serious a leak in your water line can be until it's too late and you have thousands of dollars worth of damage. Our plumbers will use a robotic camera inspection of the insides of your pipes so that we can determine whether or not a leak has occurred. This helps us locate the issue as soon as possible and take care of it as soon as possible.
We Offer High-Quality Water Line Repair Services in Broward County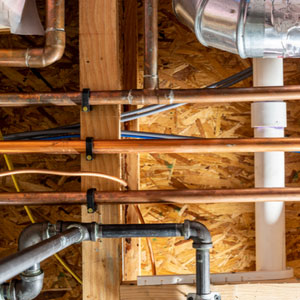 At Broward Plumbing, we offer in-depth assessments of any and all of your plumbing issues. We provide a plumbing camera system to enable us to precisely identify the location and probable cause of your plumbing problem, saving you high repair costs! If necessary, we can perform underground water line repair services with minimal impact on your landscaping, and more importantly, your wallet.
What are the top benefits of Broward Plumbing's water line repair services?
We complete the service in a day or less
We will not tear up your lawn or garden
We provide cost-effective solutions for our valued clients
We are always on time and efficient with time
We always comply with our industry high standards
Our plumbing experts will communicate honestly and openly with you and will provide the most efficient water line repair services in Broward County, possible.
Water Line Repair Emergencies in Boca Raton & Broward County
There are a number of reasons that may make your water line stop working, including, but not limited to: broken water line, frozen water line, burst water line, clogged water line, and broken water valves. These reasons may turn your minor plumbing problems into emergencies. If your water line issue turns into an emergency situation, our insured, and certified plumbing experts are available 24/7, to perform emergency water line services. Do not hesitate to reach out for our help in detecting your plumbing issue or performing your water line repair.
The Broward Plumbing Company offers the best and most cost-effective solutions to all your plumbing problems. Our plumbers in Fort Lauderdale, Boca Raton, Boynton Beach, and Broward County are experts with the latest technology for water line repair. Contact Broward Plumbing at 561.570.7777 to schedule a water line repair service.