When a plumbing emergency strikes, turning to the best plumbers in Fort Lauderdale, Boca Raton, or the entire Broward County area is of the utmost importance. If you need an emergency plumber near Fort Lauderdale or the surrounding areas, you have a few minutes or hours to choose a qualified professional to restore your plumbing systems.
Here's what you need to look for from a professional plumbing company in Broward County.
Licensed & Certified Plumber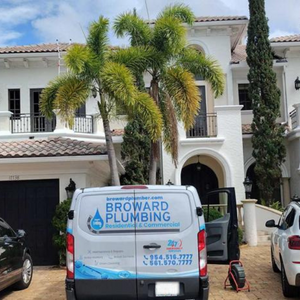 Whether you're looking for plumbing services in Broward County as simple as toilet installation or as significant as cast iron pipe repair, you should choose a plumber with certifications and awards that ensure they are equipped with the knowledge and understanding to deliver high-quality services and results.
Local Plumber Near You
The right plumbing company is one situated in your area. At Broward Plumbing, our local plumbers in Boca Raton, Fort Lauderdale, and throughout the Broward County area are familiar with local plumbing requirements and infrastructure. The knowledge allows our team of expert plumbing professionals to deliver smart and strategic results.
Years of Experience
When it comes to plumbing, especially emergency plumbing near Fort Lauderdale, experience goes a long way. The more experience a plumbing team has, the better they can react to challenges and adapt to the unique needs of an individual property. The Broward Plumbing team has decades of combined experience and high-quality tools that allow us to quickly give you the best plumbing services.
Quality of Service
Many additional factors can be used to choose a plumber near Boca Raton or Broward County, including speed of service, availability, ratings and review, range of services, and quality of materials.
Contact us today for more insight into our selection of plumbing services in Broward County.