Request a Quote
Request A Plumbing Service Quote
Water Heater Repair in Broward County
Are you experiencing cold, inconsistent temperatures? Are leaks accumulating around your water tank?
If you notice that your water heater is having issues, finding a reliable plumber Broward County is of the utmost importance. The local team of licensed and insured plumbers at Broward Plumbing can get to your commercial or residential property within 45 minutes to restore the function of your water heater.
With over 20 years of first-hand experience providing high-quality plumbing services, satisfaction guaranteed, and a warranty on all repairs and installation, you can count on the professional plumbers at Broward Plumbing for high-quality plumbing services in Boca Raton, Fort Lauderdale, and throughout Broward County.
Get Water Repair Services Now.
Signs You Need a Water Heater Repair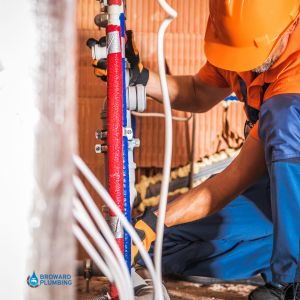 Have you been experiencing freezing cold water while showering or washing the dishes?
You may need to schedule a water heater repair or replacement if you notice these signs.
Rusty or discolored water
Water leaks around the tank
Rumbling or gurgling noises in your pipes or tank
The water is taking a long time to heat up
Reduced water pressure or inconsistent water flow
Irregular water temperatures
Visible corrosion around water tank or faucets
Your tank is more than 10-15 years old
If you answered yes to one or more of these questions, it's imperative to contact a plumber near Boca Raton, Fort Lauderdale, Boynton Beach and elsewhere in Broward County at Broward Plumbing, to inspect, diagnose, and repair your water heater.
Benefits of Professional Water Heater Repairs
Hiring a professional plumber can save you an immense amount of time, stress, and costs.
If your water heater leak is left unrepaired, it can cause severe structural damage to your residential or commercial property, so it's crucial to contact a team of expert plumbers. At Broward Plumbing, our team will come to your property in 45 Mins or less to inspect for some of the more common causes of leakage, including a failing water inlet, outlet connection, or leaky valve.
Our plumbers in Fort Lauderdale will identify the problem(s) and take precautionary measures to tackle them. We offer consistent water heater repair in Fort Lauderdale with maintenance packages to pinpoint minor repairs, saving you quite a bit of money in the long run. Our plumbing technicians guarantee dedicated, professional, and high-quality water tank repairs and replacements.
We offer water heater repairs and replacements for the following hot water tanks:
Gas Water Heater
Electric Water Heater
Heat Pump Water Heater
Tankless Water Heater
Types Of Hot Water Heaters
Broward Plumbing offers various conventional, hybrid, and tankless water heater repairs and installations.
Conventional: Conventional water heaters have a storage tank that collects and stores heated water. When you turn on the hot water faucet, cold water enters the tank and mixes with the hot water inside. A conventional water heater is best for larger families who need a lot of hot water for dishes, laundry, showers, and more.
Tankless: Tankless water heaters don't have a storage tank. They heat water on demand as it passes through the unit, meaning you'll never run out of hot water, and you save energy since the heater only heats water when needed. A tankless water heater is perfect for you if you want consistent hot water or to save energy.
Hybrid: Hybrid water heaters combine the features of conventional and tankless water heaters. They have a storage tank like a conventional water heater but also a tankless element that kicks in when the storage tank is full. This saves energy by heating only the water you need, so a hybrid water heater is the best option if you want to save energy and money.
Repair Your Water Heater Today.
Find a Water Heater Plumber Near You
When your hot water heater tank isn't working, it can be a significant inconvenience. Our professional plumbers in Boca Raton, Fort Lauderdale, and surrounding areas understand that when your water heater isn't working, everyday tasks become much more challenging. That's why we offer fast and reliable services that will leave you beyond satisfied. In addition to our quick service, we also provide the following benefits:
On-Site Within 45 Mins
24/7 Emergency Services
Highly Qualified & Experienced Technicians
Utilize Cutting-Edge Technology & Equipment
Flexible Scheduling
Free Phone Consultations
Cost-Effective Pricing
Decades of Experience
Increase your water pressure and get access to hot water with reliable services from Broward Plumbing.