Request a Quote
Request A Plumbing Service Quote
Skilled Plumbers for All Your Water Heater Repair and Installation Needs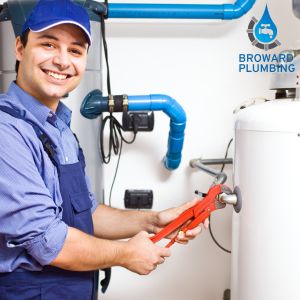 If you're facing issues with your water heater, prompt action is essential. With over 20 years of expertise, licensed and insured plumbers at Broward Plumbing offer water heater repair services in Boca Raton, Fort Lauderdale, and throughout Broward County. We prioritize timely service, guarantee satisfaction, and provide a warranty on all repairs and installations
Signs You Need Water Heater Repair:
Experiencing cold water during showers or dishwashing? Look out for these signs:
Rusty or discolored water
Water leaks around the tank
Rumbling or gurgling noises in pipes or tank
Slow water heating
Reduced water pressure or inconsistent flow
Irregular water temperatures
Visible corrosion around tank or faucets
Your tank is over 10-15 years old
If you notice these signs, contact Broward Plumbing for a prompt inspection and repair.
Benefits of Hiring a Professional Plumber:
Hiring professionals save time, stress, and costs. Unrepaired leaks can lead to severe structural damage. Broward Plumbing's team ensures a quick response, identifying and addressing common leakage causes with preventive measures and maintenance packages for long-term cost savings.
We Service All Water Heater Tanks
Gas Water Heater Repair: Efficient solutions tailored to gas water heaters ensure optimal performance and safety.
Electric Water Heater Repair: Specialized repairs for electric water heaters, addressing issues and restoring functionality.
Heat Pump Water Heater Repair: Expert services to troubleshoot and repair heat pump water heaters, optimizing energy efficiency.
Tankless Water Heater Installation and Repair: Installation and precise repairs for tankless water heaters, delivering on-demand hot water.
Hybrid Water Heater Repair: Repairs for hybrid water heaters, combining traditional and tankless features.
Our skilled technicians at Broward Plumbing are equipped to handle various water heater repairs, ensuring your system operates reliably and efficiently.
Explore our conventional, hybrid, and tankless water heater options to suit your needs.
Frequently Asked Questions
What is the average lifespan of a water heater?: How long your water heater lasts depends on various factors such as the make, model, and maintenance. On average, a standard water heater lasts between 10 to 15 years. However, with proper maintenance and timely repairs, you can extend its lifespan.
What should you do if your hot water doesn't last?: If you run out of hot water quickly, there are a few things you can do. First, check the thermostat on your water heater to make sure it is set at an appropriate temperature. If it is set too low, it may not be heating the water enough. You can also try flushing the tank to remove any sediment buildup that may be interfering with the heating process. If these solutions don't work, it may be time to consider replacing your water heater.
How can you prevent sediment buildup in my water heater?: To prevent sediment buildup, schedule regular maintenance such as flushing the tank every six months to a year. This will help remove any sediment that has accumulated at the bottom of the tank. You can also install a water softener to reduce the amount of minerals in your water, which can contribute to sediment buildup. Additionally, you can consider having a sediment filter installed on your water heater to prevent sediment from entering the tank.
Is it normal for hot water tanks to produce an odor?: Water heaters may sometimes produce a smell, but it's not always normal. If you notice a smell like rotten eggs, it could be due to the presence of sulfur in your water. This can be harmful if ingested, so it's important to get it checked by a professional. Another possible cause of a foul smell could be bacteria growth in the tank. In this case, flushing and cleaning the tank can help get rid of the smell. If you're unsure why your water heater is producing a smell, it's best to get it inspected by a licensed plumber.
How do I know if my water heater needs replacement?: There are a few signs that could indicate that it's time for replacement. If you notice rust or corrosion on the unit, if it's more than 10-15 years old, if it's leaking, if it's making strange sounds, or if you're experiencing inconsistent water temperatures, these could all be indications that it's time to replace the water heater. It's always best to consult with a professional plumber to assess the situation and provide recommendations based on their expertise.
Find a Water Heater Plumber in South Florida
Are you experiencing problems with your water heater or need installation services? Broward Plumbing provides:
On-site assistance within 45 minutes
24/7 emergency services
Highly qualified technicians
Cutting-edge technology
Flexible scheduling
Free phone consultations
Cost-effective pricing
Decades of experience
Ensure reliable water pressure and hot water access with Broward Plumbing.