Request a Quote
Request A Plumbing Service Quote
Repair & Clean Your Sewer Pipes in Broward County
Improve drain and sewer line functions and prevent costly backups with Trenchless Pipe Repair plumbers in Fort Lauderdale, Boca Raton, Parkland, and all of Broward County. Don't let damaged sewer pipes or clogged drains disrupt your life, contact the plumbing experts at Broward Plumbing.
No one wants an impaired sewer line, and digging up your front yard or garden is often the last thing a homeowner wants. With Broward Plumbing, however, these issues will become a thing of the past. We are excited to offer trenchless sewer repair in Broward County to anyone who is in need of it. This type of repair allows our skilled plumbers in Boca Raton and Broward County to fix your sewer line issues without causing considerable damage to areas in your garden and around your house. If you are searching for a reliable plumber in to perform trenchless sewer repair in Fort Lauderdale, Boca Raton, or anywhere in Broward County, reach out to Broward Plumbing.
Trenchless sewer line repair provides a less invasive, cost-effective way to fix damaged sewer lines.
Do You Need Trenchless Sewer Line Repair?
Damage to pipes can occur overtime from debris and clogs or depending on the material of your pipes, you may need sewer line repair near Boca Raton or Broward County because of aging pipes. If you notice these signs in your property, contact the expert plumbers at Broward Plumbing for a consultation and inspection.
Odours & Sewer Gas from Drains
Gurggling Noises near Drains
Slow Draining Pipes or Flushing Toilets
Oversaturated Lawns
Burst Drain Pipes
You Have Cast Iron or Polybutylene Pipes (or Your Plumbing Was Installed around the 1970
Sewer Line Repair in Broward County with Trenchless Technology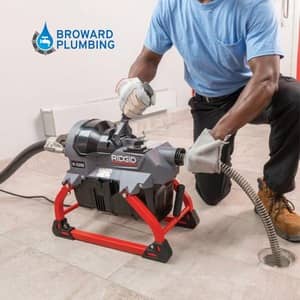 Trenchless sewer line repair is a cost-effective, environmentally friendly solution for your broken sewer line problems. When you experience a sewer line break, you are faced with the uncertainty of not knowing whether the pipe can be repaired or if you need to replace the entire sewer line. Since your sewer line is an important part of your home or business, it is vital that you can trust the company that is repairing or replacing your sewer line. As a leading provider of sewer line repair and replacement in Broward County and Boca Raton, we are proud to offer trenchless technology to our customers provided by skilled and trained plumbers in Fort Lauderdale and plumbers in Boca Raton.
How Trenchless Sewer Repair Works
Trenchless sewer repair is a method of restoring and replacing sewer pipes without trenching. This procedure is often applied as it is less disruptive and more cost-effective than conventional techniques.
Our certified plumbers in Broward County are ready to resolve your sewer line problems with trenchless technology. This proven technology is a cost-effective method of repairing your broken sewer line without digging a trench. No damage to your yard, no mess, and no hassles.
Instead of tearing up yards, driveways, and sidewalks, trenchless technology ensures that there are no large holes in your property. We use a video inspection method with a robotic camera to determine the cause of the sewer main breakage. The camera is sent into your sewer line and takes pictures for us to see what the problem is.
Once our plumbers in Broward County determine where the issue is – either in the lateral, pipe, or the main line – we use an epoxy injection process to fix it. Epoxy resin is injected into the pipe and hardens once it comes into contact with water. The epoxy resin washes away in your wastewater and creates an internal cast liner inside your pipe. This liner reinforces your pipe and guarantees that it will not break again.
Reasons You Might Need Trenchless Sewer Repair In Broward County
Trenchless sewer repair is a method of repairing underground lines without digging a trench in the yard. Our plumbers at Broward Plumbing Company use advanced technology and equipment to locate and diagnose any issues, using high pressure water jetting, hydro excavating, CCTV camera inspections and other methods and tools as needed.
Use Trenchless Sewer Repair For The Following Circumstances:
Repairing a pipe that has been damaged from roots, corrosion or pressure buildup
Removing and repairing parts of a collapsed pipe or drain
Replacing a damaged section of an existing pipe or drain
Adding on to an existing line
Benefits Of Trenchless Sewer Repair Over Traditional Sewer Repair
The trenchless process prevents undue damage to your property and can be used to complete a number of plumbing repairs including the installation of new sewer lines, sewer line repair, water mains and water service lines. Trenchless sewer replacement has proven to be the most effective method of repairing sewer lines. Trenchless sewer repair is a process that is becoming a growing trend for many homeowners. This less intrusive process limits damage to property, saving you time and money as well.
The following details the most notable benefits of trenchless sewer repair.
Convenience: Trenchless sewer repair is done without digging up your property. The pipes between your house and the main sewer line are replaced using a procedure that requires minimal digging and no destruction of your lawn. The non-destructive aspect of this type of repair means you won't have to worry about repairing or replacing damaged grass or landscaping.
Safety: Trenchless sewer repair is performed using a small diameter, root clearing pipe. This pipe provides significant protection against damage to private property and offers you peace of mind knowing that no damage will occur to your valuable property, such as trees, shrubs and flowerbeds.
Minimal Interruption: Trenchless sewer repair can be completed with minimal interruption to your household or business as pipe replaces are made underground and in non-public areas of a property. There are no destructive trenches which means you don't have to worry about damaging your landscape. It also helps prevent unnecessary damage to your home and property during sewer repairs
Easier On Your Budget: There are cost savings of up to 40% when a trenchless repair is used over traditional methods. When compared to traditional trench sewer repair, trenchless methods are less expensive and save homeowners money, without damaging their property. The additional cost savings make this an ideal choice for homeowners, who are seeking a quality plumbing system without breaking their budget.
Why Choose Our Plumbers in Broward County
At Broward Plumbing we'll always recommend the plumbing services that offer the best results for your property. To find out if trenchless pipe repair near Boca Raton, Fort Lauderdale, or anywhere Broward County is right for you, talk to our team of experts today.
Broward Plumbing Company is a local commercial and residential plumbing company serving Broward County & Southern Florida since 1994 with highly trained plumbers for all types of commercial & residential plumbing repair & installation needs. We carry most brands of materials for your convenience and offer the best warranties in the industry.
Need an emergency plumbing service now or trenchless sewer repair?