Request a Quote
Request A Plumbing Service Quote
Repair Your Broken, Worn or Bursted Plumbing Lines in Broward County
Broken, leaky or clogged pipes, if left untreated, will not only become a major inconvenience to you; they can also cause a big mess with a costly cleanup. For professional pipe repair in Broward County contact our plumbers in Boca Raton, Fort Lauderdale, and Broward County.
Our team of certified and experienced plumbers in Broward County offers complete high-quality pipe repair services. If you suspect trouble with your plumbing system, contact our team of diagnosis, repair, and maintenance.
Contact the professionals at Broward Plumbing for fast, effective, and reliable pipe repair services.
Do You Need a Pipe Repair Plumber?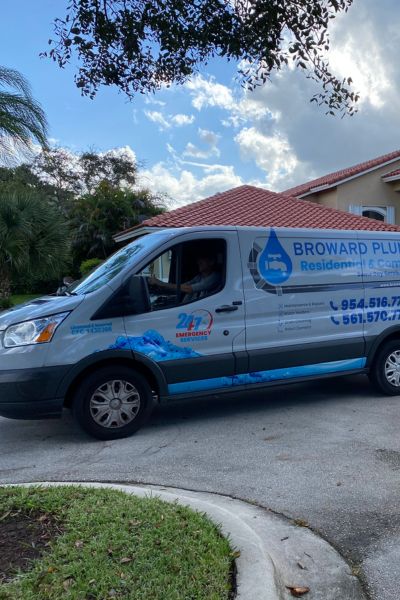 Are you frequently burdened by a leaky faucet or blocked pipes? If so, it may be time to schedule pipe repair services.
Signs You Need Pipe Repair Services:
Burst or Clogged Pipes
Fluctuating or Low Water Pressure
Leaky Faucets
Discolored Water with Foul Smells
Loud Noises from Pipes
Your Water Bill Suddenly Skyrockets
Puddles Under Sinks
Outdated or Aging Pipes
Burst pipes and plumbing leaks are an emergency! Get expert help fast.
How to Handle a Burst Pipe Fast
If your pipes burst and it becomes an emergency situation, it's imperative to know what to do at the moment.
Turn Off The Water: Shut off your water supply to minimize the chances of severe water damage.
Drain The Faucets: Open your faucets to drain any remaining water from your pipes to relieve pressure in your piping system.
Contact Expert Plumbers: Contact the team of experts at Broward Plumbing for 24/7 emergency services, and we'll quickly locate and diagnose the issue, saving you time and money.
CALL THE BROWARD PLUMBING TEAM
Commercial & Residential Pipe Repairs Services
Leaky faucets and valves: If you are seeing small drips coming out of your faucet, do not wait to get this fixed. It will cost you more money in the long run if left unattended. At Broward Plumbing we are particularly trained on all faucet models and can properly perform the repair, whether it's replacing a seal or adding a new O-ring.
Damaged pipes: Water bills can sometimes rise unexpectedly, and when this happens it is usually the cause of a damaged pipe. If left without repair, major damages can occur.
Blocked pipes: Blocked pipes can be a cause of disaster in the home. Not only will it make your toilet or sink overflow, but it can cause awful smells and a backup. Want to avoid clogged pipes? Don't flush anything other than toilet paper down the toilet and avoid putting cooking oils, leftover grease, coffee grounds or eggshells in your kitchen sink.
Re-piping: If you work or live in an older property, you will need to have your plumbing system re-piped, at some point. Unfortunately plumbing cannot last forever, and with stubborn clogs, invasive tree roots, decay and other issues; your pipes may need to be changed sooner than expected.
Expert Pipe Repair Plumbers in Broward County
At Broward Plumbing, we take pride in providing our customers with the highest-quality plumbing services in South Florida. With decades of first-hand experience and a team of highly trained plumbers, we know just what to do to quickly repair your pipes.
Contact the experts at Broward Plumbing for effective pipe repairs in Boca, Raton Fort Lauderdale, and throughout Broward County.