Request a Quote
Request A Plumbing Service Quote
Find Water Leaks & Minimize Damage with Expert Plumbers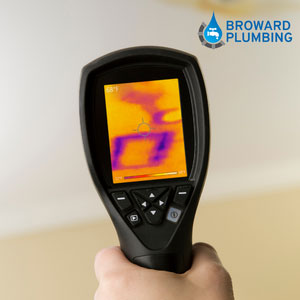 An undetected leak can be the start of chaos at home or at work. Delayed water leak detection in Broward County, often means higher water bills and mold infestation.
Sometimes leaks are inevitable, but the damage is reversible when you act fast and contact a trusted professional. Our plumbers serving Boca Raton, Fort Lauderdale, Boynton Beach, and Broward County quickly identify hidden leaks in plumbing systems, providing a range of high-quality solutions to minimize damage and save you money.
Signs of Water Leaks Around Your Property
Water leaks are often a surprise. Starting behind the surface of your walls, ceilings, and floors. A lot of the time, property owners don't even realize there is a burst or leaking pipe until it affects the rest of their property.
Peeling or blistering on paint or wallpaper
Dark water stains on ceilings or walls
Noisy or rusted pipes
Sagging ceilings
Low water pressure
Suddenly high water bills
Water leak detection with Broward County is the answer to your problems. Whether you're concerned that you have a hidden leak or want your property inspected, feel safe with exceptional water leak detection services. Broward Plumbing is your top choice for leak detection and water leak repair in Broward County.
Are you worried that you have a leak? Contact a trusted plumber in South Florida to ease your racing mind.
Why You Need To Act Fast?
Did you know that almost half of all insurance claims are because of water leak damage?
When you have a leak, it wastes tons of water, compromising the structural integrity of your house. Whether your toilet overflows, your pipe bursts, your washing machine hose breaks, or your water heater malfunctions, don't wait.
Call Broward Plumbing for an emergency response. Our plumbers in Boca Raton, Fort Lauderdale, and Broward County will be there within the hour.
When water leaks are left noticed, they can cause significant issues to your home, including mold and mildew growth. Not to mention, if the leak expands, your home will need water damage restoration. Getting a water leak detection in Hollywood allows you to have your problem quickly repaired before it gets out of control, saving you a great deal of hassle and expenses.
What To Do When You Have A Leak: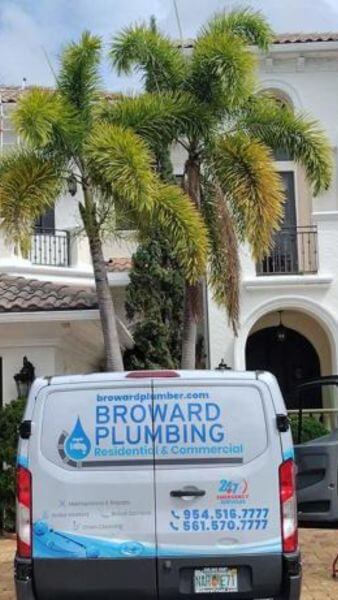 Don't wait or DIY water leak repair.
Call Broward Plumbing for 24-hour emergency plumbing services.
We arrive in 1 hour or less to start leak detection.
We'll restore your property and keep water where it should be.
Non-Invasive Water Leak Detection in Broward County
The team at Broward Plumbing is equipped with the necessary tools and knowledge to effectively detect even the most hidden leaks. Whenever possible, we perform non-invasive leak detection using advanced robotic camera inspections.
What we offer:
Direct insurance billing
Plumbing repairs and leak detection
Cast iron, polybutylene pipe repair
Trenchless sewer line repair
Non-invasive 360º Camera Inspections
And more!
Trusted Plumbing Services in South Florida
We pride ourselves on providing same-day services with high-quality results, so you can return to feeling comfortable in your property. We will perform a thorough detection report for your insurance company. If you need water leak detection or repair services, we guarantee to leave you satisfied with our exceptional technicians and customer service.