Licensed & Insured Plumbing Services in Parkland You Can Trust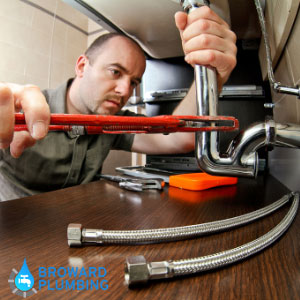 When you require a reliable 24 hour emergency plumber in Parkland, you know you can trust the experts at Broward Plumbing! Your go-to plumbing company in Parkland, Broward Plumbing, is the right choice for all residential, multi-residential, commercial & emergency plumbing issues. As a local family-run business, we have been proudly serving Parkland, Southern Florida, & Broward County for over 20 years. Our experienced team of plumbing technicians is certified, licensed, & insured—no wonder we are famous for our quality workmanship & customer service!
Our vision is to provide reliable, efficient, and affordable plumbing services with a smile! Our plumbing professionals possess the expertise, experience, and training to fix all your general and emergency plumbing needs. Available 24/7, 365 days a year, we promise a stress-free plumbing experience you can count on!
Broward Plumbing: Integrity, Experience, Expertise, & Quality Workmanship
Our expert team of plumbers in Parkland is competent & certified to provide specialist home comfort solutions for all your plumbing issues. If you are looking for the most reliable plumbing companies in Parkland, Broward Plumbing is a name that you can trust. Exceptional service, quality workmanship, & sensible pricing sets us apart from the rest. All our plumbers in Parkland have the ability, expertise, and current tools & equipment to get the job right, the very first time! Choose Broward Plumbing for reliable plumbing services in Parkland. We will be happy to serve you!
Our Services
Residential Plumbing
Our certified team of professional plumbers in Parkland has been taking care of all general and specialized plumbing problems for homes, condos, and apartments. With years of on-field experience, customers can rely on us to get the job done quickly & thoroughly. Our expert team takes care of the following issues for you:
Kitchen
Faucets & Sinks
Drain cleaning & repair
Plumbing fixtures
Water filtration
Garbage disposal
Utility Rooms & Basement
Sewage backup cleanup & repair
Drain cleaning ( including power flushing & snaking)
Drain camera inspection
Re-piping
Pipe repairs & unclogging
Water damage restoration
Bathroom
Shower & sink repairs
Clogged toilets
Shower installations
Water damage detection & repair
Pipe repairs
Toilet installation & repair
Plumbing fixture maintenance & repair
Commercial Plumbing Services in Parkland
At Broward Plumbing, our expert team of commercial plumbers in Parkland has been specially trained to cater to commercial properties. We can provide our plumbing expertise for commercial establishments, public restrooms, water filtration & heating services. Commercial businesses in Parkland can rest assured that our certified team can take care of all your plumbing requirements. Reliable & customized service, close attention to detail, and cost-effective pricing are our hallmarks. Broward commercial plumbing services come with the promise of the highest standard of plumbing services your company deserves from sewer drain cleaning and water heater repairs to sewer line repair and more.
24-Hour Emergency Plumbing Services in Parkland
Are you experiencing a plumbing emergency? Don't panic! Just give us a call at 954.516.7777, and our certified plumbers will take care of the rest. We are available 24X7 for all your plumbing emergencies—our plumbers are fast, experienced, and trained to handle all plumbing problems, big or small. Our trained crew will promptly diagnose and fix the issue, from basement floods & sewage back-ups to burst pipes & toilet clogs. Our trained staff will diagnose & fix the problem promptly. We have the expertise and the experience to handle the biggest plumbing issues, from replacing sewer lines & water mains to large-scale excavations & drain cleaning. Precise diagnosis, technical expertise, and on-field experience make us the #1 across plumbing companies in Parkland.
Why Broward Plumbing?
Quality Plumbing Services Near You: We at Broward plumbing strive to provide the most cost-effective and affordable solutions for your plumbing problems. From up-front pricing & complimentary consultations, we promise to give our valued clients the best value for their dollar! As per our transparent pricing policy, we offer a consultation before starting work so that there are no nasty surprises in the form of additional costs for you to bear. Call us at 954.516.7777 or 561.570.7777 for a free consultation over the phone.
Trained, Licenced, Certified, & Insured Plumbers: All our plumbing crew possess years of experience and are professionally trained, certified, and insured to serve you. We pride ourselves on our workmanship quality and stand behind all our plumbing work & installations. All our work is guaranteed with warranty programs & superb service for complete customer satisfaction.
Cutting-Edge Tools & Technology: Broward plumbing is synonymous with premium workmanship & cutting-edge technology. We use the latest technology in the plumbing industry for flawless plumbing repair & installations. Fiber optic robotic drain cameras, UV water purification systems, high-pressure water jetting equipment & trenchless pipe repair technology are all a part of our plumbing repertoire. Apart from this, we are always fully stocked for immediate part-replacements and energy-efficient, cost-effective plumbing installations.
Need A Trusted Plumber in Parkland?
Call Broward Plumbing!
Broward Plumbing Company has proudly been serving Parkland and Southern Florida for over 15 years! Backed by a professional team of certified and insured General & Emergency plumbers, Broward Plumbing promises reliable, safe and fast service.
When the Pandemic hit, we wanted to remain open to provide essential plumbing services to the citizens of Parkland. With safety being our number one concern, the Broward Plumbing team underwent extensive training in effectively cleaning, decontaminating and sanitizing work areas, to ensure optimal client safety at all times.
Over the last 6 months, we have been safely performing residential and commercial plumbing services. Our team of experts is ready to help!
Reasons You Need To Call A Plumber
Most people call a emergency plumbers flooded basement or burst pipes. However, there may be other reasons to call a plumber in Parkland. While these may not be as apparent or urgent, they are still important for the smooth functioning of your plumbing system. Here are 5 reasons you need to hire a professional plumber company in Parkland:
Low Water Pressure: If you have low or weak water pressure throughout the house or at specific spots, it could be due to a leak or blockage in the plumbing system. Corroded pipes, sediment build-up of a faulty pressure regulator may also be to blame. Don't ignore the problem as it could snowball into a major issue; call in a professional plumber in Parkland for a professional opinion. They have the training and tools to diagnose the real problem and fix them.
For Regular Maintenance: Investing in regular inspection and maintenance checks for your plumbing system is vital to ensure that your pipes and plumbing are working perfectly. The money spent on maintenance is money well-spent as you will save on expensive repairs, replacements, and high utility bills. Professional and experienced plumbers in Parkland can spot problems early and prevent plumbing catastrophes and costly repairs.
Dripping Faucets & Leaky Pipes: Ignoring leaky pipes and dripping faucets as minor plumbing issues could prove costly in the long run. Not only can the water pressure cause leaky pipes to burst, but they can also escalate your water bill. So even though a dripping faucet or a small leak is not a plumbing emergency, you should have it fixed by a trusted emergency plumber in Parkland.
Running Toilets: All of us lead busy lives, and a running toilet is not high on our to-do list. Still, a running toilet wastes precious water resources apart from running up a high water bill for you. Constant water noises from your toilet indicate a problem within the water tank system. If DIY solutions don't fix the problem, it might be time to call a professional plumber in Parkland.
Clogged Drains: Another common plumbing problem is that of clogged drains. Basic home hacks may work temporarily. But if you are experiencing recurrent clogs, you need the services of professional plumbing companies in Parkland. Their experienced plumbers can quickly identify and fix the clog with a drain camera inspection.
It is difficult for a regular homeowner to pinpoint plumbing issues that are not apparent. Our team of professioanls plumbers are trained and licensed to spot potential plumbing problems and can help protect your home and property using high quality robotic camera inspections and water leak detection in Parkland and accross Broward County.
Your Trusted Plumbing Professionals in Parkland
If you're looking for reliable and licensed plumbing companies in Parkland, look no further than Broward Plumbing! Your local and reputable family-run business, Broward Plumbing experts will literally get to the bottom of all your plumbing issues! With our trained and experienced emergency response team, we are ready to serve you 24 hours a day, 7 days a week! Dial 954.516.7777 or 561.570.7777 to schedule a regular service or reach us for any emergency plumbing issues!