Request a Quote
Request A Plumbing Service Quote
Say Goodbye to Polybutylene with Professional Repiping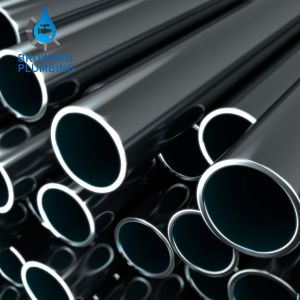 Are polybutylene pipes interfering with your plumbing functionality?
Polybutylene pipes were commonly used as a more cost-effective alternative to replace copper pipes in commercial and residential properties in Boca Raton, Fort Lauderdale, Tamarac, Hollywood, and their surroundings. However, research has shown that these pipes react poorly with water, leading to further damage over time.
If your property is currently equipped with polybutylene pipes, upgrading to PVC pipes is highly recommended. Contact Broward Plumbing for assistance with this necessary upgrade.
Signs Your Polybutylene Pipes Need Attention
Polybutylene pipes only have a lifespan of about 20 years, and most were installed in Broward County around the 1990s or before. Clogs, wear and tear, and corrosion can accelerate pipe damage.
If you notice the following signs, contact our team of expert plumbers in Broward County:
Low Water Pressure
Leaks Around the Property
Drain or Sewer Backups
Plumbing Systems Over 10 Years Old
Don't wait for polybutylene pipes to fail. Replace your pipelines with high-quality, long-lasting PVC alternatives before leaks or backups occur. As polybutylene pipes begin to degrade and age, they can cause hidden leaks in the functionality of your plumbing systems, reducing water pressure and blocking drain systems.
How To Identify Polybutylene Pipes
Polybutylene pipes are typically gray or black and have a shiny, plastic-like appearance. They are often stamped with the letters "PB2110" or "PB2110" on the side of the pipe. Additionally, these pipes are usually flexible and easy to bend, unlike copper or PVC pipes, which are more rigid. However, it's important to note that not all gray or black pipes are Polybutylene, so it's best to consult a professional plumber or home inspector if you're unsure.
Get Polybutylene Pipe Replacement Fast
If your polybutylene pipes are causing trouble, increasing stress, and costing you money, fix it fast with polybutylene pipe replacement from Broward Plumbing.
Upgrade Your Plumbing with Pipe Repair
Phone Consultation: Do you suspect polybutylene pipes were installed on your property, or have you struggled with blockages and low water pressure? Do you stay in Boca Raton, Fort Lauderdale or other areas surrounding Broward County? Call Broward Plumbing to discuss your concerns and get our expert plumber to visit you on-site.
Plumbing Camera Inspection: Using our advanced robotic plumbing camera inspection system, we will get a complete view of your pipes to assess the condition and pipe material and determine the best pipe repair solution for your property.
Pipe Replacement: We'll help you replace your pipes with high-quality PVC pipes by digging out the existing polybutylene pipes or repairing advanced, less-invasive trenchless pipes so you can restore and enhance the functionality of your plumbing systems.
Benefits of Switching to PVC Pipes
When your Polybutylene pipes fail, they can't be repaired. Switching to PVC pipes will extend the lifespan of your plumbing and enable high-level performance, restoring water pressure and reducing the risk of plumbing leaks. Polybutylene pipe replacement will take the stress out of your plumbing, and it can significantly increase your property value and minimize the costs of future plumbing services.
Polybutylene Pipe FAQS
What causes Polybutylene pipe to fail?: Polybutylene pipes can fail for several reasons, including exposure to chlorine and other chemicals in the water supply, as well as general wear and tear over time. The pipes can become brittle and develop small cracks, eventually leading to leaks and water damage. The fittings used with polybutylene pipes can also fail, causing leaks and other issues.
Is Polybutylene safe for drinking water?: The material is not toxic and poses no health risk.
What are the disadvantages of Polybutylene?: One of the main disadvantages of polybutylene is that it is prone to cracking and splitting over time; another disadvantage of polybutylene is that it is not as heat-resistant as other types of piping materials, which can make it more susceptible to damage from hot water or other high-temperature liquids.
Is all GRAY pipe polybutylene?: Not all gray pipes are made of polybutylene. Gray pipes can be made of different materials, such as PVC, CPVC, and PEX.
Why was Polybutylene banned?: Polybutylene was banned because it tends to fail and cause leaks, leading to significant property damage and costly repairs. The failures were attributed to a combination of factors, including the material's susceptibility to degradation from exposure to chlorine and other chemicals commonly found in water supplies and poor installation practices.
Polybutylene Pipe Replacement Plumbers Near You
When you contact our team of emergency plumbers in Broward County for polybutylene pipe replacement, you can count on experienced teams, fast response times, high-quality materials, and expert workmanship. We are a family-owned and locally-operated company equipped with knowledge of advanced equipment and regional plumbing systems and infrastructures. We are dedicated to reliable customer service and long-lasting results.