Request a Quote
Request A Plumbing Service Quote
Remove Disruptive Clogs with Our Certifed Plumbers
It's common for your drains to become clogged for numerous reasons like hair, soap, dirt, food waste, mineral buildup, and much more. Advanced camera inspections and expert snaking can streamline drain cleaning to remove obstructions from your pipes without causing significant damage to your property. At Broward Plumbing, our team of certified plumbers use the latest plumbing technology to uncover any issues quickly and efficiently.
Signs Your Drain Needs a Professional Cleaning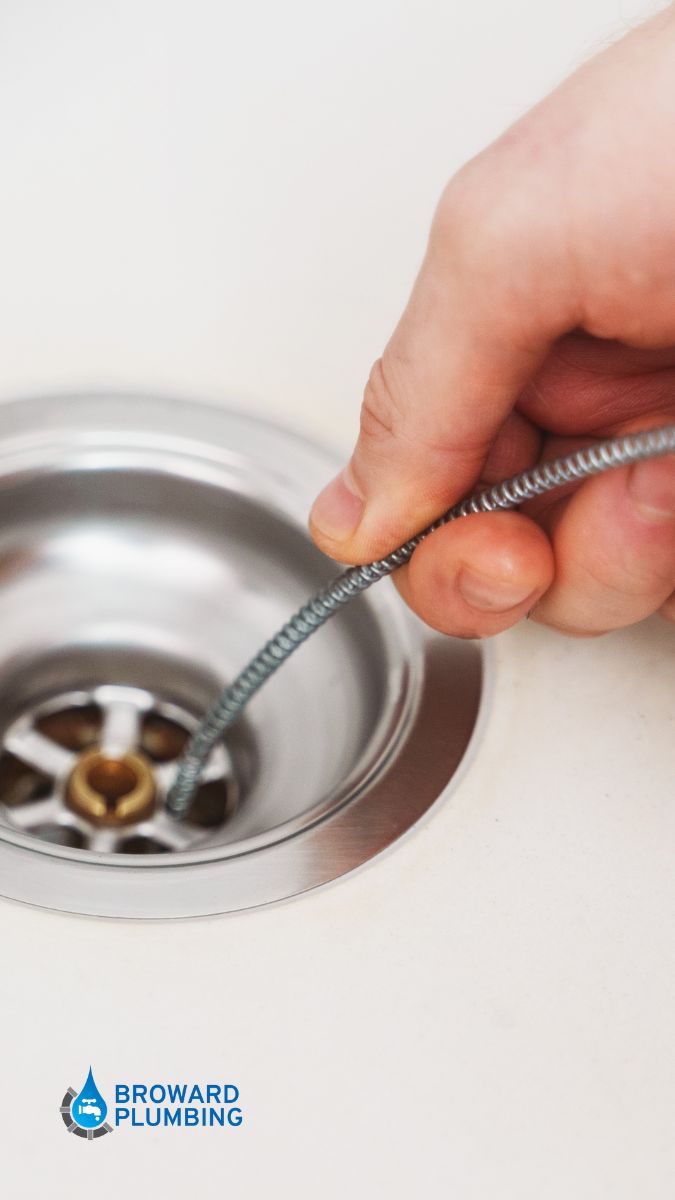 There are many signs that your drain needs professional cleaning services, such as:
Your water doesn't flow easily down the drain
Poor drainage
Foul odors when water is running
Gurgling & other strange noises
Your gutters haven't been cleaned in over a year
You've tried drain cleaning products that don't work
If you notice any of these issues, contact the best plumbers in Boca Raton, Fort Lauderdale, Boynton Beach, and Broward County for reliable for drain cleaning services.
Why Your Drain May Be Clogged?
There are various reasons why your drain may be clogged. However, the main reasons are typically tub and shower accumulation, plumbing system installation errors, and food/grease buildup.
Fats, Oils and Grease (FOG) – Oils and greases can build upon a kitchen sink or bathtub over time and cause a clog. If you're disposing of oil-based household cleaners in your sink, this can also cause fat, oil, or grease buildups.
Tub and Shower Accumulation – Over time, soap scum and hair will accumulate in bathtubs and showers. This accumulation can contribute to clogs.
Plumbing System Installation Errors – The installation of your plumbing system may not have been done correctly. It's crucial to find an experienced plumber who knows how to install plumbing systems correctly to prevent clogs.
Professional Clog Inspection, Snaking & Scale Removal
Drain cleaning is essential for removing hair, soap scum, debris, food waste, and much more. Our professional snaking campabilities allow us to precisely reach and remove clogs that can damage plumbing systems and building infrastructure. With state-of-the-art robotic camera inspections we can diagnose the issue, using advanced hydro jetting to wash away troublesome scale buildup, and snaking to clear obstructions.
Save Money With Regular Drain Cleanings
You should get your drain cleaned yearly to ensure proper drainage and discover any possible drain issues. Although, you can get your drain professionally cleaned every 1-2 years to keep it running smoothly. Annual drain cleanings effectively remove gunk and debris from your plumbing system. Clearing out your pipes that form major blockages reduces the risk of plumbing repairs. Ultimately, getting annual drain cleanings saves you money and gives you peace of mind throughout the year.
Professional Drain Cleanings in Broward County
If you need drain cleaning services in Broward County for your slow running drains, and/or clogged pipes choose Broward Plumbing for reliable and effective services. Skip the DIY and protect your plumbing: our plumbers offer a full range of drain cleaning services includomg routine drain maintenance, sewer cleanings, emergency drain cleaning services, and plumbing camera inspections for floor drains, storm drains, sewer drains, downspout drains, and more.
Why Choose Us:
24-Hour Emergency Services
10+ Years of Experience
Dedicated & High-Quality Service
Industry-Leading Technology & High-Quality Materials
Certified & Licensed Plumbers