Request a Quote
Request A Plumbing Service Quote
Professional Water Damage Detection in Broward County
In the modern world of plumbing, there is a number of different reasons that you would need to hire a plumber. For instance, if you are experiencing a burst pipe, or if your drain is clogged, or if you are trying to fix a running toilet, these are all good reasons to call in professional services. However, one of the most important concerns that can arise with your plumbing is that of water damage. If you are searching for a 'plumber near me' that offers water damage detection services, your search is over! Broward Plumbing offers expert technicians in water damage detection in Broward County. Our plumbers in Boca Raton, Fort Lauderdale, and throughout Broward County work meticulously to ensure that our valued clients receive a quick and reliable service.
The Importance Of Water Damage Detection
Water damage detection is a core specialty of the plumbing industry. It is almost a certainty that you will experience a flood or a water leak at some point in your life. As such, it is important to know how to detect these problems as early as possible to minimize the damages and prevent them from escalating.
Most home owners are concerned with the consequences of a water leak or flood on their property, including damage to the carpets, walls, flooring, insulation and furniture. However, you should also be concerned about the impact it has on your family's health and safety.
As water leaks from your home's pipes and fixtures, it can deteriorate the air quality in your house, leading to mold growth and bacteria proliferation. Mold, for one, is a health hazard that can make you sick if you breathe enough of it, putting your family members at risk of respiratory issues and infections. In order to avoid these risks, it's important to act quickly when you notice any signs of water damage in your home.
How do Our Plumbers Near Your Provide Water Damage Detection?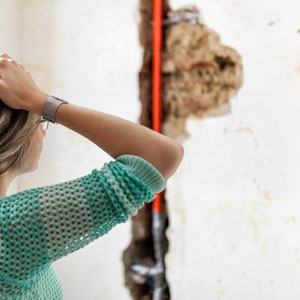 Our entire team of highly trained technicians work proficiently to detect any type of water leaks or damage that you may have. We use the most up-to-date and specialized equipment to see behind your walls and under your floors without having to demolish them. Through a robotic camera inspection, our thermal imaging technology (an infrared camera) is able to show us quickly, leading us right to the leak cause. We also use moisture meters to guide us right to the moisture source. We are able to use the moisture meter with wood, tiles, drywall and concrete, without having to remove them. Our experts will complete your water damage detection in Broward County service, without destroying your property's structural foundation.
Do you have a flood proof property?
Most commercial or residential owners have experienced at least one form of water damage on their property. Perhaps it was a toilet that overflowed one too many times, or a burst in a pipe or water heater. Any of these situations, if left untreated, can cause expensive property damage, without intervention from an experienced plumber in Fort Lauderdale, Boca Raton, and Broward County.
50% Of All Insurance Claims Are Due To Water Damage
Were you aware that almost half of all home or commercial property insurance claims are due to water leaks and/or damage?
We offer a wide array of services in water damage detection in Broward County, including and not limited to, basements, attics and roofs. We also perform any and all structural leak repairs and at no extra cost, we will write up a full water leak detection and damage report, for your insurance company.
What Type of Water Damage Detection in Broward County Services do we Offer?
Reconstruction
Direct insurance billing
Restoration services
Full clean up after work is completed
Removal of drywall & plaster
Paint touch ups
Dehumidification & drying of flooded area
Sewage and drain cleanup
Aromatizing mold and odor control
At Broward Plumbing, we pride ourselves on hiring the best emergency plumbers in water damage detection in Broward County. Untreated leaks not only waste a large excess of water, but weaken your water pressure as well. If the leak is left unrepaired or undetected, it can cause severe structural damage to your residential or commercial property.
Using the most recent technology offered in our industry, our technicians will find the leak and damage, whether it's beneath the floor or behind the walls. In addition, our specialists are highly certified and trained in finding the best solutions to fix sewer line leaks. If you are skeptical of a serious leak and/or damage on your property, contact us right away at 954.516.7777. We are available 7 days a week, 24 hours a day, to answer and fix any of your plumbing emergencies.