Request a Quote
Request A Plumbing Service Quote
Plumbing Camera Inspection in Broward County
Sewer Camera Inspection, Drain Detection, Leak Detection, Clog Detection
At Broward Plumbing, we offer the newest technology to perform plumbing camera inspections in Broward County. Our robotic video camera (also called an electric drain snake, pipe snake, sink snake, drain cleaner snake or sewer snake) is used to detect clogs as well as pipe and drain issues. We use the special robotic video camera to locate the problem(s) quickly and professionally in both residential and commercial sectors. Scheduling an on-time sewer camera inspection with our team of local plumbers in Boca Raton, Fort Lauderdale, Boynton Beach and elsewhere in Broward County will prevent major plumbing issues and can save you time and money at the very least.
We specialize in sewer drain cleaning as well as repair and maintenance of all sewer systems. We provide a full drain camera services and inspection for drain review analysis. With the camera, we can control inspections, view and record digital video, log observations and generate accurate and precise reports. When conducting a plumbing sewer camera inspection in Broward County with our robotic camera, we are able to diagnose and execute:
Commercial and residential sewer line alternatives
Clogged drain pipes
A thorough camera inspection
Drain cleaning with a high water pressure jet device
Sewer backup
Sewer camera inspection and pipe replacement
Preventive maintenance
Drain snaking and camera services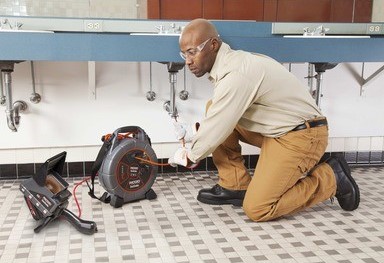 Get 360 Degree Access to Your Pipes with the Leading Plumbers Near You
We use this type of technology to perform tasks that we could not do otherwise, in places it is impossible for us to reach. This product enables our expert technicians to access areas that are either too dangerous or remote, for human intervention. It helps us improve practical planning, reduce safety risk, and decrease overall detection and repair costs for our clients. We have the expertise and the right tools to confront your plumbing issue without the messy clean up, offering you an effective end to any problem that you may have.
We conduct sewer camera inspections across the Broward County Area that familiarises you with your plumbing systems, underground sewer lines and pipes to better understand the arising issues.
How does a robotic camera inspection work?
Broward Plumbing's experts will be able to precisely identify what the issue is with your drain pipe and the location of the problem. Our camera is skillfully held by a 330-foot cable and carefully lowered into the drain to visually pinpoint the blockage. Unlike conventional plumbing practices that involve technicians to rip up your residence or business to isolate an issue, a robotic sewer camera inspection is discreet and more accurate. After the problem is located, our highly skilled team of technicians will be able to decide the most efficient solution to repair it. In some cases, we can use our sewer snake to break up the clog or blockage and bring your drain problems to an end. With drain camera inspection & services in Broward County, we can decrease your inconvenience and resolve the problem quickly with remarkable precision.
Learn More About Plumbing Camera Inspection Services Offered In Broward County

Plumbing Camera Inspection In Boca Raton
Plumbing Camera Inspection In Fort Lauderdale
Choose the Professionals at Broward Plumbin Plumbers
A sewer camera inspection is the ideal solution in avoiding major plumbing issues in the future. By contacting our plumbers in Fort Lauderdale, Boca Raton, and Broward County for your plumbing camera inspection and plumbing services in Broward County, you will have a trained expert at your home or business, executing your camera inspection on the same day of your call.
If you're experiencing any plumbing issues, you can rely on the #1 plumbing company in Broward County. We have the experience and expertise to respond to any plumbing issues, big or small, with dependability and effectiveness.
Broward Plumbing services in Boca Raton, Fort Lauderdale, Boynton Beach and elsewhere in Broward County..