Request a Quote
Request A Plumbing Service Quote
24/7 Emergency Plumbing Services in Broward County
When a leak, clog, burst pipe, or other plumbing emergency gets in your way, our commercial and residential plumbers are available night and day to serve you. From extreme rain and heavy winds to old infrastructure, plumbing emergencies are common in South Florida. Fast intervention, from a plumbing company you can trust will minimize disruption and damage.
Get Emergency Plumbing Services in Broward County: When you need help in a pinch, our certified plumbers are available.
24/7 Plumbing Services: Day or Night
Our team of highly trained and experienced plumbers is available 24/7 to tackle any plumbing emergency you may encounter. Whether it's a burst pipe, a clogged drain, a leaking water heater, or any other plumbing issue, we've got you covered. The Broward Plumbing team prides ourselves on delivering prompt and reliable emergency plumbing services, using high-quality materials and attention-to-detail, ensuring that your plumbing problem is resolved quickly to minimize damage and inconvenience. For the best plumbers in Boca Raton, Fort Lauderdale, and Broward County, call Broward Plumbing now.
Get Emergency Plumbing Services Now
Call Broward Plumbing for 24-Hour Emergency Services.
Our team of plumbers will arrive on the scene within an hour to assess the situation and provide a quote.
We'll get work with water leak detection, drain unclogging, sewer line repair, or any other emergency plumbing service you need in Boca Raton, Fort Lauderdale, Boynton Beach, and througout Broward County.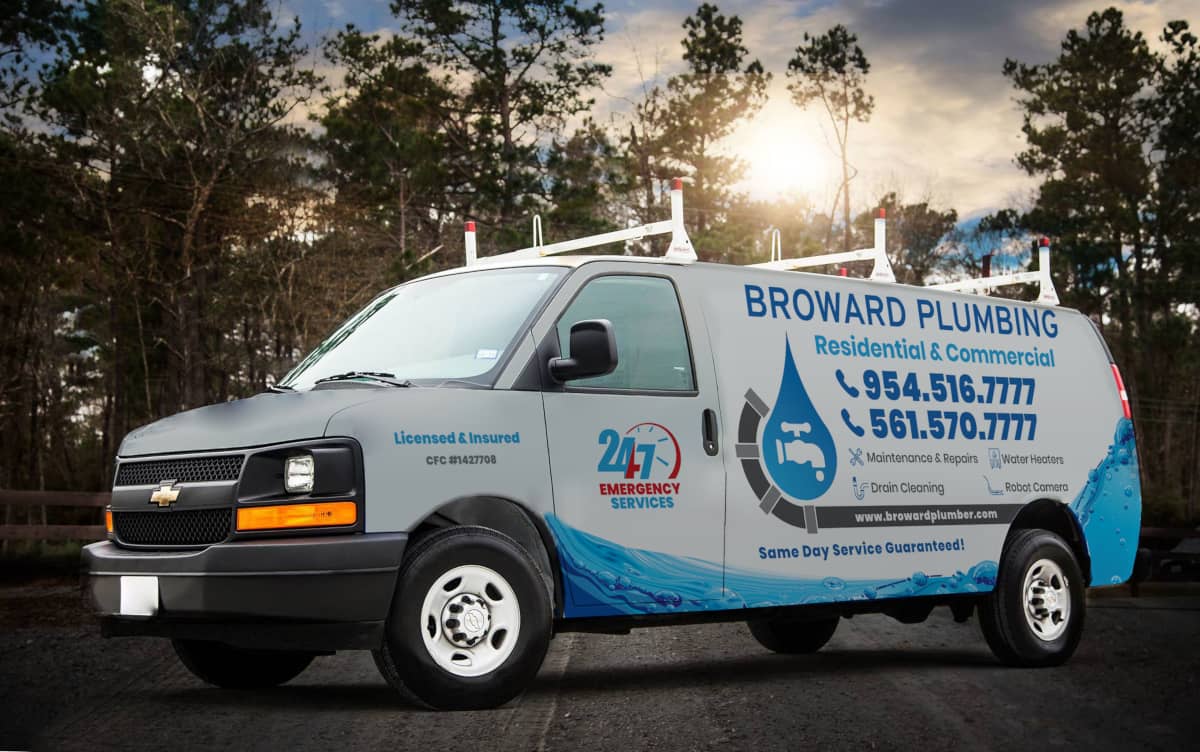 Our Emergency Plumbing Services
Burst Pipe Repair: A burst pipe can happen without warning. Our expert repair team of emergency plumbers in Broward County offer urgent repair to mitigate water damage and maintain plumbing functionality.
Clogged Drains & Toilets: A severely clogged drain or toilet can bring your daily activities to a halt. Emergency plumbers can clear blockages using advanced techniques and equipment to restore proper drainage.
Water Heater Repairs: A malfunctioning or leaking water heater can disrupt your daily routine, limiting access to hot water. Emergency plumbers can diagnose and repair water heater issues, ensuring you have access to hot water when you need it.
Water Leak Detection: When you notice mold around your property or are noticing an unusually high water bill, you likely have a hidden leak. Broward Plumbing provides expert non-invasive water leak detection for fast and cost-effective solutions.
Our Emergency Plumber Service Promise
With any emergency plumbing repair, with our certified plumbers in Boca Raton, Fort Lauderdale, and all of Broward County, you can always expect:
Same-day emergency service
24/7 availability
Certified plumbers
A large inventory of plumbing parts, available for emergency work completion
Suggestions and tips to prevent future plumbing emergencies
What's Causing Plumbing Emergencies Near You?
Properties in Southern Florida are often in need of emergency plumbing services due to a number of reasons.
Tropical Storms & High Water Table: Large storms that frequent the Boca Raton beaches and city areas bring heavy rainfall and high winds that lead to high water table and damage such as burst pipes and water line cracks, causing leaks and clogs.
Saltwater Intrusion: The beachside air of Boca Raton makes fixtures essential to plumbing systems and cast iron pipes that are found in many properties more susceptible to corrosion and mineral build-ups.
Aging Infrastructure: Nearly 100 years old many buildings and homes in Southern Florida have aging plumbing systems that deteriorate over time, as damage gets worse damage becomes more imminent, requiring emergency plumbers in Boca Raton.
Tree Root Intrusion: Southern Florida's warm and humid climate encourages the growth of trees and vegetation. Tree roots can infiltrate underground plumbing pipes, causing blockages, leaks, and damage to the sewer system.
Hard Water: Southern Florida has a high concentration of minerals in its water supply, resulting in hard water. Over time, the minerals can accumulate in pipes and plumbing fixtures, leading to reduced water flow, clogs, and plumbing failures.
Improper Installation or DIY Plumbing Repairs: Inadequate plumbing installations or do-it-yourself repairs can contribute to plumbing emergencies. Faulty connections, incorrect pipe sizing, and subpar workmanship can lead to leaks, bursts, and more plumbing issues. When it comes to plumbing emergencies, it's best to leave repairs to the certified plumbers in Fort Lauderdale, Boca Raton, and Broward County.