Request a Quote
Request A Plumbing Service Quote
Emergency Plumbing Services in Broward County
Broward Plumbing is committed to doing whatever it takes to ensure you receive the best 24 hour emergency plumbing service in Broward County. Our certified technicians will fix your plumbing emergency on the same day you hire us - always with expertise and speed. Our 24 hour emergency plumbers is an experinced team, equipped to respond quickly to solve your plumbing emergency, no matter what it may be. Broward Plumbing is always up to date on the latest technology and tools in the plumbing industry. We can even use our robotic plumbing camera to quickly detect an emergency clog or leak issue.
We offer a wide array of emergency plumbing repair services in Broward County, from small repairs to large plumbing fixture replacements and piping. When in need of an emergency plumber near you, you can count on Broward Plumbing for fast, efficient, and reliable 24 hour emergency plumbing services with guaranteed quality services.
What 24 Hour Emergency Plumbing Services Do We Offer?

When there's an urgent situation, call our emergency plumbers in Boca Raton, Fort Lauderdale, Boynton Beach, Del Ray, and throughout Broward County.
Drain cleaning & repair
Toilet repairs
Bathroom and kitchen faucets
Any plumbing fixtures
Increased or decreased water pressure
Septic pumps
Water damage
Garbage disposals
Piping repair and installation
Water heaters
Water filtration
When you are in an emergency plumbing situation that can be even more troublesome at odd hours, our 24 hour emergency plumbers near Boca Raton, Fort Lauderdale, and Broward County can provide quick service and after the job clean up when you need it the most.
Requesting a different emergency plumbing service in Broward County that is not listed on our website? If it's related to anything related to emergency plumbing repair, our specialists will fix it with quality and expertise.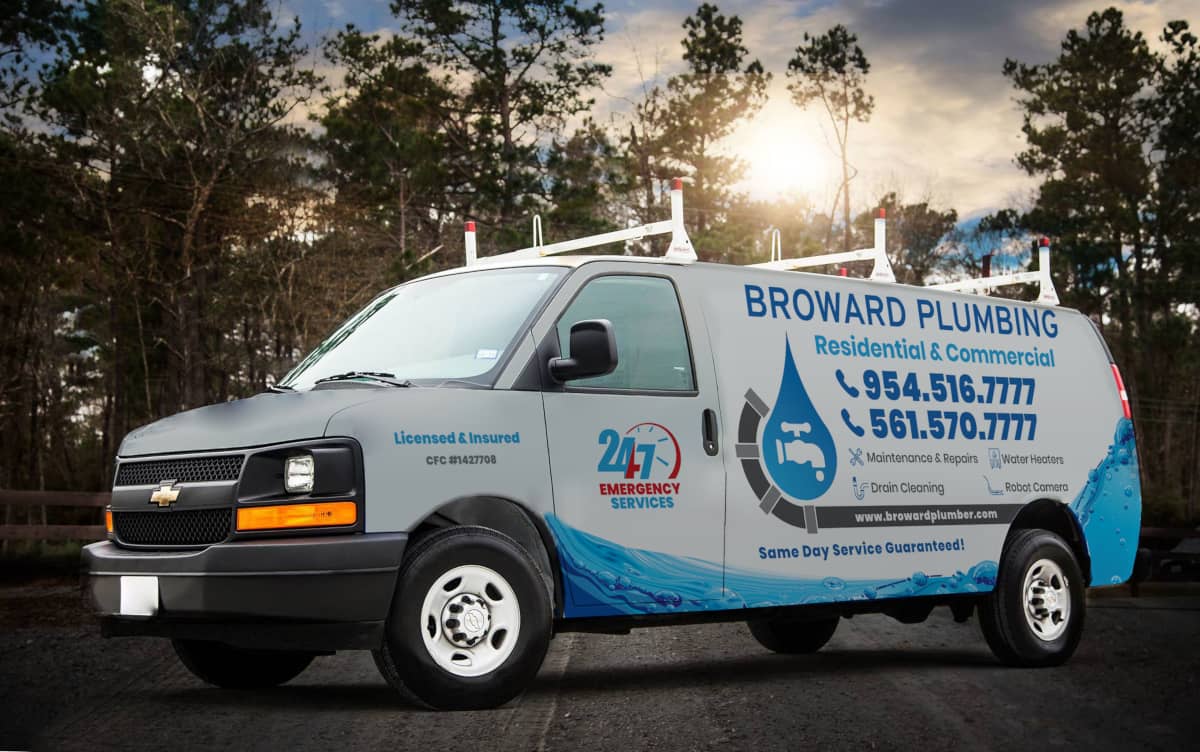 No matter what the job entails, at Broward Plumbing you can always count on:
Same day service
24/7 availability to answer your call and tackle your emergency
Highly professional, courteous and expert plumbing technicians
Convenient appointment times, even if it's the same day!
Guaranteed upfront and reasonable pricing
A large inventory of plumbing parts so most of our work can be completed in a single visit
Suggestions to prevent future plumbing emergencies
We serve all of Broward County, including:
Boca Raton
Parkland
Coral Springs
Tamarac
Plantation
Deerfield
Delray Beach
Weston
South West Ranches
Fort Lauderdale
West Palm Beach
Hollywood
Boynton
Pompano Beach
How To Avoid A Plumbing Emergency In Broward County
Sometimes, even the smallest thing can cause you to call for emergency plumbing services in Broward County.
To avoid these small emergencies, here are our plumbers near Broward County's top 3 things you should never flush down a drain:
1. Baby wipes
Some people think that they can flush baby wipes down the toilet like toilet paper, however, toilet paper is thin and dissolves in water. A baby wipe is made to be much stronger and much harder to break down. Therefore, it will get stuck in your drain. To avoid this issue, buy sustainable baby wipes that can be tossed into your compost!
2. Feminine hygiene products
These products are subconsciously designed to clog your pipes! They aren't designed to dissolve in water and they are one of the most common items that will clog your drain in general.
3. Cotton balls
Cotton is designed to absorb water. If you flush a bunch of it down your toilet, it will expand and fill up your drain almost immediately. To avoid this, throw your cotton in the garbage.
Professional 24 Hr Emergency Plumbers
For quick, clean, and reliable 24 hour emergency plumbing services in Broward County, you can count on Broward Plumbing. Do not hesitate to contact our team or experts. Everything we do is guided by our commitment to offering the best customer service in the plumbing industry. We always offer upfront pricing, specialized plumbing services, and customizable plumbing solutions. We are always reachable and our services are 24/7. Our Broward Plumbing staff treats you and your home or business, with the greatest respect. In addition, we will always clean up after our services have been completed. Please call 954.516.7777 for more information.
We provide our services to all of Broward County including Fort Lauderdale, Delray Beach, Plantation, Boca Raton, Hollywood, Deerfield, West Palm Beach, Weston, Parkland, Coral Springs, South West Ranches, Tamarac, Boynton, and Pompano Beach.