5 Situations When You Need An Emergency Plumber In Boca Raton
Posted in Emergency Plumbing Services, on March 01, 2022
---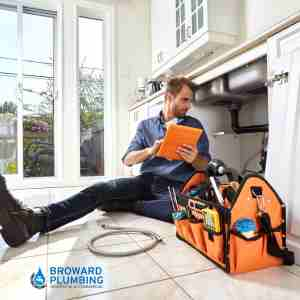 We all hope that we never have to deal with a plumbing emergency, but unfortunately, they can happen. While some plumbing problems can wait, emergency issues need immediate attention. If you find yourself in a situation where you need an emergency plumber, it is essential to know what to do and who to call for the best plumbers in Boca Raton. Thankfully, the experts at Broward Plumbing know precisely what to do. Here are 5 telltale signs that indicate you need to give us a call.
Water Stains
Water stains on the floor or ceiling mean a leak that has been there for some time. The culprit could be a slow plumbing leak like a leaky faucet or overflowing toilet. Water has probably been leaking and soaking through the walls, floor, or ceiling leading to water damage. So if you spot water stains on your walls or ceiling, call a trusted emergency plumber in Boca Raton right away.
No Hot Water
This is one issue that can be a great inconvenience. Whether you're doing the dishes, washing the clothes, or taking a shower, you can't do without hot water! No hot water can mean a host of things—from a problem with the water heater to a leak in the pipes. Whatever may be the case, this is one plumbing problem that requires a professional plumber asap.
Clogged Drains in Boca Raton
Minor clogs in your drains can snowball into a major clog over time. Accumulation of hair, grease and other debris in the drain cause these blockages. Using strong chemical-based cleaners to dissolve the clogs is a bad idea—they can damage the pipes and are not environmentally safe. If your regular plunger isn't working, call a reputed plumbing service in Boca Raton immediately. Professional plumbers have the knowledge and tools to address such issues safely.
Burst Pipes
Calling an emergency plumber is a no-brainer if you have a burst pipe! High water pressure, severe clogging, and tree-root infiltration can all cause pipe bursts. It can also significantly damage your home, and repairs can be expensive. Burst pipes are also dangerous if water gets into electrical appliances. They can also cause structural damage and mold infestation. If you're dealing with a burst pipe, don't panic! Turn off the main water line to stop the water flow and speed dial an expert plumber from Broward Plumbing.
Water Gurgling Up
If you hear gurgling sounds when running the water fixtures around the house, don't ignore it as a minor issue. The water gurgling in the pipes indicates that the drainage system is gasping for air due to a drain clog or a blocked vent system. It carries a risk of potential water backup, and it is best to cut off the water and call an experienced plumber before the problem worsens.
The Best Emergency Plumbers Boca Raton
If you are experiencing any of the above plumbing situations, don't delay calling in the experts at Broward. Emergency plumbing issues can crop up anytime; that is why our emergency plumbers are on call 24/7. Our experienced and licensed plumbing team can fix all domestic & commercial plumbing problems to your satisfaction. Call or contact us online for expert emergency plumbing services in Boca Raton!