6 Ways to Detect a Hidden Water Leak
Posted in Water Leak Detection, on September 11, 2023
---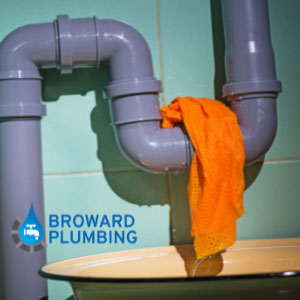 Water is a basic necessity, and our homes run smoothly with regular piped water. However, this very water can create havoc if it invades our home's structure or damages our property. Unfortunately, plumbing leaks are a common occurrence and can even happen in newly constructed homes. What's worse is that most leaks are sneaky; they make their presence felt when considerable damage has already been done. This is why homeowners need to know how to spot a water leak. If it is a pesky hidden one, you can consider searching for a 'plumber near me' hiring a reliable plumber in Fort Lauderdale for water leak detection and repair.
Get Plumbing Leak Detection Now
Read on for expert advice on detecting hidden water leaks from the pros at Broward Plumbing:
1. Check Your Water Meter
A surefire way to determine a water leak in your home is the water meter check! Just turn off all the water fixtures in your home and do not use appliances like washing machines or dishwashers. Wait a bit and watch whether the reading on your water meter is changing. If it is, then you could probably have a fast-moving leak. If it does not change, wait for a few hours or overnight. If it has changed even when the water is not being used, there could be a slow-moving leak somewhere in your plumbing system. It is best to contact an experienced plumber in Boca Raton, Fort Lauderdale or Broward County for quick water leak detection and repair.
2. Inspect All Fixtures & Appliances
If there is a possible leak per the DIY water meter check, you'll need to inspect all appliances and fixtures. Look out for any water puddles or pooling around toilets, bathtubs, and under sinks & appliances. If there is dampness or puddles, turn off the water supply to the particular fixture and contact a plumber immediately.
3. Dye Test The Toilet
Your toilets use a good chunk of the water in the house, so you should ensure that they are working correctly. You can perform a simple dye test to check for hidden toilet leaks. Just add 7-8 drops of food color to your toilet's water tank and wait for 10-15 minutes. If you can see the color in the toilet bowl without flushing, it indicates a toilet leak. Probably, the leak is allowing water from the tank to trickle into the bowl even without flushing. This continuous leakage can really add up, so get the leak repaired at the earliest!
4. Check Exterior Water Usage
Leaks can spring up anywhere, including the exterior of your house. If a particular patch in your yard has dark spots or looks softer, it needs further inspection to rule out a leak. Keep an eye for unusual water flow around the exterior of your house. Unexplained wet patches are another red flag. Check the spigots outside for leaks around the hose connection. If there is water seepage, try changing the rubber gasket. Getting a reliable plumber in Fort Lauderdale to inspect your lawn irrigation system can rule out hidden plumbing problems and leaks.
5. Check Your Water Bill
Checking your water bill can also give a clue about possible water leaks. If you have consistently high water bills, but there hasn't been a change in your water consumption, a leak may be at play! While some pipes are buried underground, most water pipes are hidden; thus finding a plumbing leak can be difficult. Consider getting a professional plumber to check for leakages.
6. Stay Alert
Be vigilant and check for signs of a leak—look under the sink, back of cabinets, and under appliances for dampness or mold. Any foul odors, wet patches, or signs of mold require an experienced plumber to check for potential leaks. A little alertness can save you thousands of dollars in repair costs!
Need a Plumber in Fort Lauderdale?
Your local plumbers from Broward Plumbing are always there to help! From minor plumbing leaks to more complex issues, you can count on us to track the leak and fix it for good! You can trust Broward Plumbing for accurate water leak detection and impeccable plumbing repairs! For all your emergency plumbing in Fort Lauderdale, Boca Raton, Boynton Beach, and South Florida, trust Broward Plumbing.
Save On Your Next Plumbing Service With Broward Plumbing!