How to Address Common Causes of Drain Clogs
Posted in Drain Cleaning , on January 23, 2023
---
Clogged drains and sewer lines can cause major disruptions to your daily routine with sudden pipe bursts, leaks, or sewage backups. These issues can damage your home or business, lead to costly repairs, and pose a health hazard. It is important to address common causes of drain clogs early and schedule regular drain cleaning with reliable plumbers near Boca Raton.
Read on for a low-down on addressing common causes of drain clogs with this quick guide by the experts at Broward Plumbing.
Debris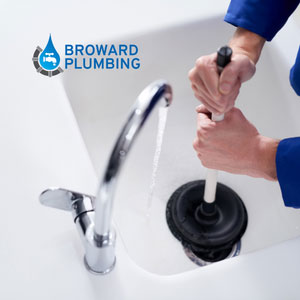 One of the most common causes of drain clogs is debris build-up. This can include hair, soap scum, food particles, and other clog-forming materials that block water flow and cause nasty backups. Regular drain cleaning can help prevent such issues. However, if you do experience an unfortunate clog, call in the professionals. Broward Plumbing has the most reliable plumbers near Boca Raton who are trained to handle all types of clogs and can quickly get your drains flowing freely again.
Fat or Grease
Another common cause of drain clogs is the build-up of fat or grease. These substances can solidify and stick inside the pipes, creating a barrier that prevents water from flowing through. You must avoid pouring cooking grease down the drain and properly dispose of it instead. Remember to run cold water when using your garbage disposal unit and afterward (15-30 seconds). You can occasionally clean the pipes using a homemade degreasing mixture of baking soda and vinegar. If a clog does occur, a plumbing snake may be able to break up the blockage. However, if the clog persists, it may be necessary to call a professional plumber to address the issue.
Corrosion & Pipe Breakdowns
Old pipes, particularly cast iron and lead pipes, are prone to corrosion and leaks. Cast iron pipes can rust easily, causing pipe collapse & blockages. Lead pipes are a health hazard and can contaminate the water supply. If you have an older home with cast iron or lead piping, consider switching to PVC pipes that are more durable and resistant to corrosion. Upgrading to PVC pipes can significantly reduce the risk of drain clogs caused by corrosion and pipe breakdowns.
Tree Roots
Tree roots can also be the culprits behind drain clog problems. As trees grow, their roots can branch out to penetrate underground sewer drains and cause blockages. If you suspect tree roots may be causing your drain woes, have a plumbing technician assess the situation and determine the best action.
Sagging Sewer Lines
Over time, your sewer lines can start sagging due to age, sinkholes, or shifting soil. This causes the wastewater to accumulate in the sagging portions, preventing it from being drained. This can leave you with a backed-up sewer line. Avoid this situation by replacing the old and saggy sewer lines.
Clogged Drain? Trust the Best Plumbers in Boca Raton
Don't hesitate to call the pros at Broward Plumbing for efficient and affordable solutions to your sewer line, pipes, or other plumbing issues. Regular drain cleaning by a plumbing professional can help to prevent future clogs and keep your plumbing running smoothly. Our skilled plumbing technicians provide hassle-free drain cleaning, sewage backup cleanup, and repair services. Whether it's an emergency or a holiday, we're available 24/7 for your convenience!