Are There Microfractures in Your Pipes
Posted in Pipe Repair, on July 21, 2023
---
An efficient plumbing system is indispensable for the smooth functioning of your home. However, daily wear and tear can take a toll on your pipes and trigger issues like microfractures and cracks. Timely identification and repair by an expert plumber in Boca Raton is critical to prevent water damage and subsequent expenses. Microfractures are common in polybutylene (PB) pipes, and you may require an emergency plumber in Boca Raton for polybutylene pipe repair or replacement. Read on for a low-down on microfractures, polybutylene risks, and solutions.
Pipe Microfractures & Associated Risks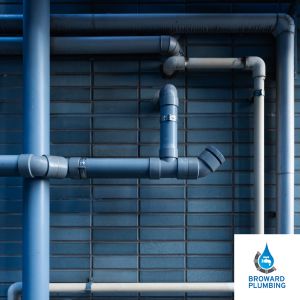 Microfractures are tiny, almost invisible cracks that develop in your plumbing pipes over time. These fractures may be caused by age, water quality, temperature changes, and external stressors. Polybutylene pipes used in most residential and commercial buildings in Florida during 1975-1995 are another culprit behind pipe microfractures. The plastic resin in PB reacted with disinfectants and oxidants in the public water supply to cause internal flaking, scaling, and microfractures.
Though seemingly insignificant, microfractures can create havoc with your plumbing and cause:
Water leaks: Even the tiniest of cracks can allow water to escape, resulting in water damage to your property and increased utility bills.
Mold: Pipe microfractures can lead to unhealthy mold growth. This can compromise indoor air quality and pose significant health risks.
Pipe bursts: Microfractures can impact the plumbing system's structural integrity and trigger pipe bursts. This can lead to flooding and cause substantial property damage.
Detecting Hidden Microfractures
Identifying microfractures in your plumbing requires advanced technology and expertise. Unfortunately, PB pipes may have deteriorated significantly before you can spot external signs and microfractures. Thankfully, a plumbing camera inspection by Broward Plumbing's experienced plumbers in Boca Raton can identify microfractures in your pipes. Our expert technicians will insert a tiny camera on a flexible cable inside your plumbing. This enables them to inspect the interiors via the attached monitor without the need for disruptive digging or damage to walls and property. This non-invasive plumbing technique helps identify microfractures and hidden leaks. It helps assess the health of your plumbing system accurately and identify necessary polybutylene pipe repair or replacement needs.
Repairing Poly-B Pipes & PVC Replacement
If a professional plumber in Boca Raton detects polybutylene pipes in your plumbing system, you must address the issue promptly. Minor problems and microfractures can be repaired through pipe lining technology. However, the ideal solution to significant microfractures and related issues in polybutylene pipes is to replace them with sturdy and durable PVC (Poly Vinyl Chloride) pipes.
PVC Pipe Benefits
Opting for PVC pipes brings several advantages to your plumbing system:
High corrosion resistance to chemical and biological degradation reduces the likelihood of microfractures and leaks.
Sturdy and durable, PVC pipes offer a long and relatively trouble-free lifespan.
PVC pipes are a safe & reliable option for drinking water supply owing to their high inertness and corrosion resistance.
A smooth inner surface prevents drain clogs and promotes efficient water flow.
Cost-efficient with minimal maintenance requirement.
PVC pipes can be recycled easily. Certification systems and traceability of recycled PVC ensure quality control and safety.
Choose Broward Plumbing for Expert Plumbers in Boca Raton
When it comes to addressing microfractures, leaks, and other plumbing issues, Broward Plumbing is your trusted partner. With years of experience and a team of skilled professional plumbers in Boca Raton, we promise a seamless and long-lasting solution for your plumbing needs. Contact Broward Plumbing for fast, reliable, and professional polybutylene pipe repair & replacement. Ensure plumbing peace of mind–Call now to schedule your Broward Plumbing drain camera inspection and PVC pipe replacement today!