Avoid Clogged Drains this Thanksgiving with the Following Tips
Posted in Drain Cleaning , on October 13, 2022
---
The holidays are slowly approaching, which means it's almost time to prepare and serve your signature Thanksgiving dinner to family and friends. Surrounded by those you love while eating delicious food sounds perfect - until you experience a clogged drain on a day when you need your sink the most. Before contacting a plumber near Boca Raton and Broward County for a drain cleaning, you can take some preventative measures to ensure your plumbing works efficiently on Thanksgiving.
With the following tips, you can learn how to avoid clogged drains this Thanksgiving.
Don't Rinse Your Leftovers Down The Drain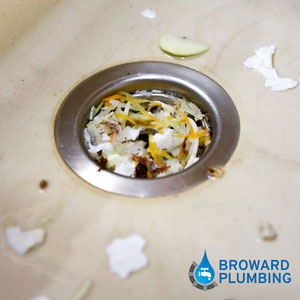 Cleaning up after Thanksgiving dinner can be a hassle, especially if you host several people. From collecting dinner plates to cleaning off the stovetop, getting your kitchen back in order can be time-consuming. Taking shortcuts while cleaning during the holidays can sometimes free up time, whereas in other instances, it can result in more hassle. It can be tempting to rinse leftover food, but it's essential to scrape it off beforehand. Foods like potatoes, turkey/potato skin, bones, fruit pits, and fibrous fruits/vegetables should never go down your sink as they can cause terrible clogs in your drain. If your drains aren't performing as they should, it's critical to reach out to a plumber near you in Florida for a diagnosis.
Never Pour Grease Down The Drain
Along with food, another thing you should never pour down the drain is any cooking grease, oil, or leftover fat. Though these substances are liquid when poured down the drain, they do not stay that way. As the grease cools down, it solidifies and sticks to the drain pipe's sides, causing a nasty clog. It's essential to dispose of grease properly to avoid clogging your drains. If you have leftover cooking oils, pour the hot liquid into a container to let it thicken. Once the fat has solidified, you can either use it as cooking oil or dispose of it in your compost bin. If you accidentally pour grease down your drain, it's crucial to reach out to a professional plumbing company, like Broward Plumbing, for an effective drain cleaning as soon as possible to prevent extensive clogging.
Get a Garbage Disposal Installed
Garbage disposals are extremely popular in American households as an effective way to deal with common kitchen waste. Garbage disposals work by shredding foods into smaller pieces so they can easily pass through drains. If you find that there are still pieces of food left over on your plate, even after scraping large portions of food off, installing a garbage disposal is a perfect addition to your kitchen. If you want extra convenience, choose to get a garbage disposal installed by the professionals at Broward Plumbing.
Contact a Boca Raton Plumber Before Thanksgiving
Are you planning a special Thanksgiving dinner and worried about your drains becoming clogged? To ensure your drains are clean and performing well, contact the team of trusted plumbers at Broward Plumbing team for drain cleaning services.