Benefits of Plumbing Services For Your Fort Lauderdale Business
Posted in General Plumbing Services, on June 09, 2022
---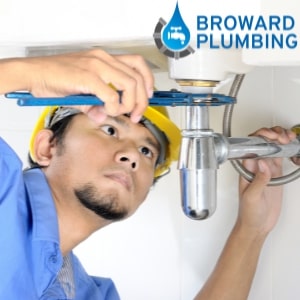 There are many reasons why you should hire plumbing services in Fort Lauderdale for your business. When you have a business, it is very important that you have a fully functional and well-maintained plumbing system. Even if you are a business that has one main location, it is still important to make sure that your plumbing system is in good condition with professional plumbing services from Broward Plumbing, as problems may arise at any given time.
To start with, let's look at the basic reasons why you need the expertise of a plumbing company in Fort Lauderdale for your business:
Reliability: Plumbing problems can occur anytime and anywhere. A professional plumber in Fort Lauderdale will ensure he responds to your call immediately.
Responsive: A plumber with a good reputation will respond to your call immediately. This can prevent a potential disaster from happening. That is why it is important to hire a plumber in Fort Lauderdale who is available at all hours of the day.
Dependability: A professional plumber nearby has the skills, knowledge, and expertise to handle any plumbing situation in your building.
The Benefits of Plumbing Services For Your Business
There are many benefits to using plumbing services for your business. Having a reliable and accessible service provider can rest assured that any plumbing issues will be quickly resolved. This prevents extensive damage to your property and limits the number of disruptions to your business operations. Plumbing companies in Fort Lauderdale can also help you save money in the long run by preventing small problems from escalating into larger and more expensive repair projects.
Plumbing issues can cause major problems to your business if they are not addressed right away. People often assume that their plumbing needs will only arise during the night time or holidays when there are no plumbers available to help them out. But this is not always the case, as you can easily have a plumbing issue at just about any time of the day or night.
Plumbing issues are unpredictable because no one knows when they will happen. For that reason, you need to hire a service provider that can respond to your calls in a timely manner.
Finding Reliable Plumbing Services in Fort Lauderdale
There are a few things to keep in mind when you are searching for a plumbing service for your business.
First, it is important that you find a service provider that has experience servicing commercial properties. This will ensure that they have the knowledge and skills necessary to properly address any plumbing issue that may arise.
Second, you should check to see if the service provider offers 24/7 emergency services. This is essential as you never know when a plumbing issue may occur.
Finally, it is also important to make sure that the service provider is licensed and insured. This will protect your business in the event of any problems.
Contact Our Emergency Plumbers at Broward Plumbing
Out of all the plumbing companies in Fort Lauderdale that offer plumbing services in Fort Lauderdale and beyond, Broward Plumbing is one of the best. Contact us today for speedy, reliable and professional plumbing services.