The Benefits of Robotic Camera Inspections from Plumbers in Boca Raton
Posted in Pipe Repair, on August 04, 2023
---
Having a well-kept home includes regular checkups and inspections in every aspect of your home. As plumbing is one of the most critical components of your home, it shouldn't be forgotten when booking general maintenance and inspections. Broward Plumbing is a plumbing company that can provide inspections, repairs, and replacements, in and around Boca Raton. Equipped with a great team of plumbers, we can provide services anytime. There are many approaches that we take when it comes to inspections, including using a robotic camera, one of the less invasive processes.
By reading on, learn more about why plumbers in Boca Raton enforce robotic camera inspections.
Avoid Mess and Property Damage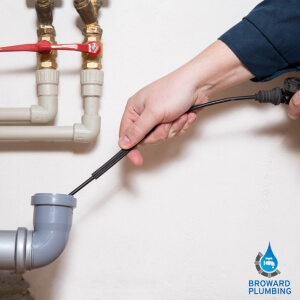 Advanced technology is a fantastic thing. It has made our lives so much easier and has created methods of doing things that are harmless to your property. Robotic camera inspections can detect potential damage to your pipes, such as microfractures or loose fittings, so you can replace or repair the harm before it has a significant impact. By performing this type of inspection, plumbers can come in more frequently to check your plumbing system, as it doesn't take considerable damage to walls or floors to see the pipes. Trust a plumber in Boca Raton to perform this minimally invasive inspection.
Minimizing Costs and Time
Any sort of demolition can cost a pretty penny. With camera inspections, you save yourself from having to demolish a wall and then repair it simply to inspect your pipes. This is especially great when you are seeking home renovations. With the costs of the upgrades, you don't want to contribute to the price even more. As this is minimally invasive, the inspection done by a plumbing company can be speedy with these cameras, so you can return to your everyday tasks.
Avoiding Unnecessary Procedures
The best case to make use of the robotic camera inspection is only if you are suspicious of a leak or malfunction. You wouldn't want to go through a whole day of invasive inspection just to find out there's nothing wrong with your plumbing system. This method still provides an accurate and efficient analysis of your pipes. With these cameras, plumbers can offer a clear understanding to the homeowners with a visual real-time representation of any fractures.
Can Detect Any Issues
Cameras are a great way to document. With great detail and its intense zoom, we can see everything wrong with your pipes, from corrosion, cracks, or any other kind of buildup. The combination of the camera and the expertise of your plumber can help determine root problems. Plumbers can determine if inevitable cracks can cause more significant complications in the future.
Plumbers in Boca Raton with Broward Plumbing
Contact our professionals if you suspect any kind of fracture or malfunction in your plumbing. At Broward Plumbing, the team comprises professional and experienced plumbers who have seen it all. We provide the best care with cutting-edge technology and a warranty on repairs and installations. We are available 24/7 for any plumbing emergency in Boca Raton.