Benefits of Switching Cast Iron to PVC Pipes
Posted in Pipe Repair, on December 13, 2022
---
A clogged toilet or drain may seem like a simple plumbing issue that can be repaired easily - which is valid at the surface level. However, if you experience frequent plumbing problems associated with your drain or pipes, it could mean there is a more significant issue at hand. If your home was built before 1980 and you encounter regular plumbing malfunctions, you likely need a cast iron pipe repair. Professional plumbers in Boca Raton recommend inspecting your pipes to determine a practical course of action. At Broward Plumbing, we offer maintenance, replacement, and service options for cast iron pipes, so you can choose which option is right for you and your budget.
Signs Your Cast Iron Pipes Need Repair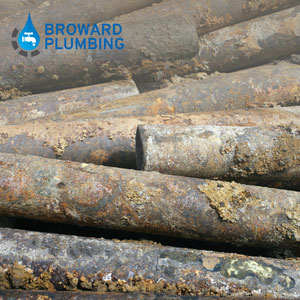 When your cast iron pipes need to be replaced, various signs indicate it's time to contact expert plumbers in Boca Raton to inspect your pipes. From continual plumbing repairs to appliance malfunctions, damaged pipes can leave you witUpgh numerous plumbing problems that can be costly. Recurring plumbing issues like sewage backups or leaks should not go undetected as they can lead to structural damage, expensive bills, and continuous plumbing errors, so it's essential to schedule a cast iron pipe repair by a team of certified plumbers.
Below are some possible signs that your cast iron pipes need repairing:
Your pipes are 50+ years old
Recurring plumbing leaks
Frequent toilet or sewage backups
Foul smells (sewage gasses)
Strange noises (gurgling)
Poor drainage
Clogged drains or toilets
Pest infestation
Loose, raised, or broken floorboards or tiles
Stained or discolored floor grout
Water damage on rugs, carpets, floors, etc.
If you notice any of these signs, it's vital to contact a team of professionals to take care of the issue. Our team will assess the damage to your pipes with an advanced plumbing camera inspection near Boca Raton to determine if you are in need of cast iron pipe repairs or replacement.
Benefits of Switching Cast Iron to PVC Pipes
Did you know that by replacing your pipes with PVC, you can raise your property value by $20,000- $30,000? By failing to repair or replace your pipes, your property value significantly depreciates, so it's ideal to replace your pipes before further damage occurs. Cast iron pipes are susceptible to calcium buildup and can easily get blocked by waste and corrosion, drastically slowing down the drainage. By replacing or repairing your pipes, you prevent your pipes from developing a belly or sag, which can lead to standing water and sediment buildup. By replacing or repair your cast iron pipes early, you can avoid the need for urgent sewer repair. However, if there is an sudden leak or backup, you can count on your team of emergency plumbers in Boca Raton and the entire Broward County area.
Other benefits of switching cast iron to PVC pipes include the following:
Long service life
Enhanced energy efficiency
Improved water quality & drainage
Prevents sewage backups & water waste
Free from biofilm contamination
Corrosion/chemical resistant
Leak-free joints
Reduces blockages
And more!
Cast Iron Pipe Repair Service Options
At Broward Plumbing, we offer three types of cast iron pipe repair service options based on the damage associated with your pipes.
Maintenance: If your cast iron pipes are in good condition, they can be maintained instead of replaced, which saves you money and offers a quick solution. The professionals at Broward Plumbing use high-pressure water jetting to effectively clear buildup and clogs, extending the lifespan by 10+ years.
Replacement: During a detailed and trenchless plumbing camera inspection, our team of experts will investigate the damage to the pipes. If there are hairline cracks, it indicates that your pipes will soon collapse, meaning they need to be replaced immediately. Depending on your preferences, Broward Plumbing offers non-trenchless and trenchless pipe replacement options.
Service Option: If the interior and exterior of your property have cast iron pipes, you can choose to replace only the outdoor pipes with PVC. Doing so extends the lifespan of your plumbing system and significantly raises your property value.
Expert Plumbers in Boca Raton & Broward County
For reliable, satisfaction-guaranteed, and cost-effective plumbing services, trust the licensed professionals at Broward Plumbing. Don't let your pipes collect buildup and corrosion, contact our plumbers in Boca Raton, Fort Lauderdale, Hollywood, and surrounding areas for top-quality plumbing services.
Want to Learn More About Cast Iron Pipe Repair?