Common Plumbing Problems In Old Homes In Fort Lauderdale
Posted in General Plumbing Services, on October 04, 2021
---
Older vintage houses are cherished for their quaint charm and period character. While you may be enchanted by the aesthetic appeal of a vintage home, it can often conceal several problems that may require you to call a plumber in Fort Lauderdale. Potential homeowners would be wise to take note of common plumbing problems so you can spot them quickly before it turns into a situation where you are searching for 24-hour emergency plumbing services near you to come to the rescue!
Old Piping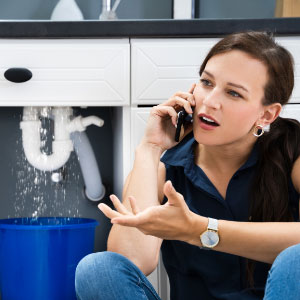 Undoubtedly, the most common plumbing issue in older homes is obsolete piping material. If a house is older than 30 years, the piping system is likely to be aged or made of materials proven to be defective. Thankfully, the use of lead in piping was restricted in the 1920s though it wasn't banned until 1986. Galvanized steel was another piping material that was popular in the 60s. However, it proved to be really corrosive, with the pipes deteriorating and rusting quickly. Discolored water and low pressure
The replacement by polybutylene pipes did not prove any better as the plastic reacted to the chemicals in the municipal water system. This made the pipelines prone to cracks and breaks, leading to early replacement. If your home has any old defective pipes, get them upgraded to PVC or PEX piping by a reliable emergency plumber in Fort Lauderdale at the earliest!
Sloping or Bellied Pipes
Another common plumbing grouse in older homes is sloping or bellied pipes. As a house settles over time, the lines running underneath tend to slope or protrude in a belly-like shape. These downward slanted pipes restrict the water flow and create bends. Sediments and waste accumulate in these bends to cause blockages and leaks. Bellies in sewer drains can cause messy sewage backups that can be both damaging and hazardous. Keep an eye on warning signs like slow drains, unexpected green patches in the yard, foul odors, or frequent backups if you want to avoid calling 24-hour emergency plumbing services.
Outdated Fixtures
Outdated plumbing fixtures lack the style and convenience of modern plumbing. Old, worn fixtures can also break down and are more at risk of leaks and clogs. Limescale buildup on plumbing fixtures is another problem in vintage homes. Potential homebuyers should also check the condition of plumbing fixtures during a home inspection. Get the faucets, toilets, and other fixtures repaired or replaced before buying.
Botched Repairs
Older homes come with the risks of lousy repair jobs that the previous owners may have carried out. You never know whether the homeowners tried DIY repairs or got work done by amateur plumbers to save money. Think unsecured pipes, improperly sloped showers, and faulty sink traps! It is not easy to spot these hidden plumbing problems that can turn into expensive repairs. Also, the older the home, the more the possibility of questionable repairs that can be a costly affair for the new owners.
Effective Repairs from the Broward Plumbing Plumbers in Fort Lauderdale
Hire a professional plumber in Fort Lauderdale to evaluate the state of the plumbing system before buying a period property that could turn into a potential 'money pit'! If you already own an old house, consider a plumbing inspection. Luckily, Broward Plumbing undertakes plumbing inspections, repairs, and replacements at affordable prices. Call us to take care of your 'vintage' plumbing problems today or contact us online!