Common Triggers for Water Leaks in Boca Raton
Posted in Water Leak Detection, on July 19, 2022
---
A water leak is no joke and is one of the worst nightmares for any homeowner. Since ocean levels are rising and Florida's terrain is flat, it is more common to experience floods and leaks. With an average of 52 inches of rain annually, and 70 percent of rain and hurricanes occurring from June to October, getting a water leak detection in Boca Raton is highly suggested. The last thing you want is to risk having a leak with the many consequences. Now is the perfect time to look for plumbers in Boca Raton to ensure that you and your home are safe from water leaks. With more and more inclement weather, commercial and residential property owners need to know how to respond to water leaks and when to call an emergency plumber near you.
Read on to know the common triggers for water leaks in Boca Raton.
Water Leaks in Boca Raton
Even just a small leak can wreak havoc on your home. Every year, an average home loses 2,000-20,000 gallons of water solely due to leaks from faulty faucets to burst pipes. This leads to a significant waste of energy, water, and money. While dripping taps or leaking toilets are easy to detect, some leaks can go unnoticed for months or years, causing excessive water damage and mold growth. When living in Tamarac, it's essential to find a professional plumbing company to check your pipes regularly. Anything can happen, and you should be a step ahead. The experts at Broward Plumbing have the tools and experience to detect any water leak in your home so you can go back to living comfortably.
Corrosion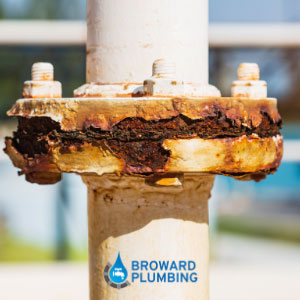 One of the most common causes of leaks in South Florida is corrosion. Pipes and pipe joints are prone to rust and decay as they age. If your lines are older than 15+ years, you should get them checked regularly or upgrade your plumbing system right when you notice any signs of corrosion. If you notice any wear and tear or your pipes are aged, contact the professionals at Broward Plumbing for water leak detection in Tamarac.
Clogged Drain Line
There are many reasons your toilet may be leaking, such as a leaking water supply line, a cracked toilet bowl, loose flange bolts or floor flange, or an old wax ring. Although, many homeowners experience a leaky toilet due to clogged drain lines. When pipes have too much pressure, they will expand and contract, leading to a pipe burst. It's crucial to find reliable and trusted emergency plumbers in Boca Raton that can solve the issue adequately, as your toilet is an essential part of your home.
Faucet/Shower Leaks
Is your faucet, shower, or bath dripping? Since the drips are so small and go easily unnoticed, you may have been blindsided by these indications. Knowing the signs and triggers of water leaks is advantageous and allows you to always be prepared. Typically, bathtubs drain leaks are the most common due to a drain-trap pipe leak, causing water to drip into the space underneath. While this isn't an immediate concern, over time, it can cost you extra money while wasting enormous amounts of water. If you notice even a tiny drip, it's best to call an experienced plumber to fix the problem. Broward Plumbing is well-experienced in repairing faucet or shower leaks at an affordable price.
Why Choose Our Plumbers in Boca Raton for Water Leak Detection
Broward Plumbing is your go-to plumbing company in South Florida, with certified technicians with years of experience. We are a local, family-run business that prides itself on our customer service and satisfaction with all of our customers. If you are concerned about a leaky pipe or haven't had a leak detection, contact the experts at Broward Plumbing to get started.
Call us today - we're available 24/7!