Comparing Pipes in Boynton Beach Construction
Posted in Pipe Repair, on August 17, 2023
---
Piping materials are critical in construction and building infrastructure, affecting longevity and everyday living experience. The stark differences in the piping material used become evident with the need and frequency for pipe repairs, especially polybutylene pipe repairs. When selecting drainage material, cost, performance, and durability are primary concerns for owners and developers. If you're seeking the wisdom of an expert plumber near Boynton Beach for your next project, our blog can be an insightful resource! Read on as the Broward Plumbing experts give a low-down on the three primary pipe types used in construction: Cast Iron, Polybutylene (Poly-B), & PVC.
Cast Iron Pipes: A Sturdy Legacy with Limitations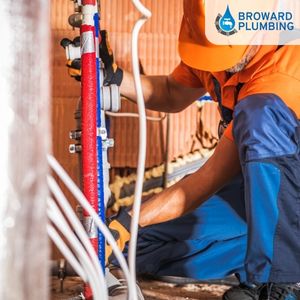 Cast Iron pipes have been a reliable choice for plumbing systems since the 17th century. They are fire-resistant and maintain their structural integrity even under high pressure. Cast Iron pipe durability and longevity have been proven over the years, but their sturdy legacy comes with certain limitations. Their susceptibility to corrosion is a notable concern that can lead to rust and eventual blockages. Their heavy weight makes their installation labor-intensive, and replacing them significantly disrupts the building structure.
Polybutylene Pipes: The Rise & Fall
Polybutylene(Poly-B) pipes emerged as a cost-effective alternative to traditional plumbing materials in the 1970s. These pipes gained popularity owing to their easy installation and resistance to freezing. However, their downfall started with the discovery of their susceptibility to premature deterioration. Exposure to chlorine and other chemicals found in municipal water supplies led to pipe failures, making Poly-B a controversial choice for construction.
If you're facing Poly-B trouble, seeking expert advice from a professional plumber near Boynton Beach is essential to determine the best polybutylene pipe repair or replacement solutions.
PVC Pipes: Redefining Modern Plumbing
Polyvinyl Chloride (PVC) pipes have revolutionized modern plumbing systems with myriad benefits that make them a favored choice. Lightweight PVC pipes are easy to handle and install. Their rust and corrosion resistance ensures a longer lifespan than Poly-B and other materials. The versatile PVC pipes can withstand chemical and biological degradation, making them an ideal option for sewage & drainage systems. However, they cannot withstand high temperatures and highly acidic waste. Overall, the seamless installation process, cost-effectiveness, and versatility make PVC pipes a go-to choice for contemporary plumbing projects.
Common Causes of Pipe Repair
Regardless of the material used, pipe repairs can become inevitable over time. Age, usage, and external conditions can contribute to plumbing issues requiring a professional Boynton Beach plumber.
Corrosion and rust are common culprits that can lead to blockages & leaks in cast iron piping.
Poly-B pipes may experience failures due to chemical degradation, making early detection and regular inspection crucial.
Though durable, PVC pipes can be vulnerable to cracking when exposed to extreme temperatures or physical stress.
The Final Word
Choosing plumbing materials and pipes is paramount for the long-term success of any project. Each material has its distinct pros and cons––understanding their inherent differences can empower homeowners and construction professionals to make informed decisions.
And if you need polybutylene pipe repair or other plumbing assistance, contact the pros at Broward Plumbing. We're your trusted plumbers near Boynton Beach for robust & reliable plumbing systems. Broward Plumbing promises 24 hrs service, advanced plumbing technology, and fast turn-around, all at budget-friendly prices. Call now for Broward Plumbing expertise for your home or new commercial project!