Why Consider Repiping Before You Need Pipe Repair
Posted in Pipe Repair, on February 18, 2022
---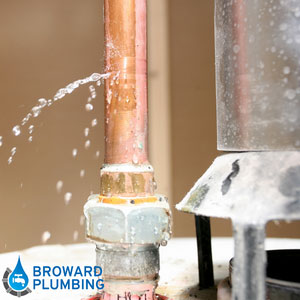 Repiping is a process by which it is possible to replace old, outdated, or damaged pipes with brand new ones and fix pipe leaks. Repiping is often done in residential homes and business settings to remove unsanitary conditions, repair damage, or update systems for improved performance. If you are thinking about pipe repair in Broward County, you may want to consider some of the following benefits that new pipes and the expert plumbers in Boca Raton and Broward Plumbing can provide for your property.
Repiping Your Home To Fix Pipe Leaks
Loose joints, worn pipes and outdated systems can lead to a large number of issues in your home, including, but not limited to: water pipe leaks, increased energy costs and difficulty with appliances such as your dishwasher and washing machine. Repping your home will replace all of the pipes that run from your main water line to the fixtures in your bathrooms, kitchen, laundry room and more. This will usually include adding an expansion tank and water heater to the repipe as well. A pipe repair in Broward County can prevent many issues, including preventing wastewater backup. Repping plumbing companies in Broward County have the specialized training and equipment necessary to repipe your home and fix pipe leaks without compromising the integrity of your walls or floors. Cast iron pipe repair in Boca Raton and polybutyelen pipe replacement can revive your plumbing infrastructure, sparing other elements, and increasing your property value.
Top Reasons To Repipe Your Plumbing
Lower water expenses
One of the ways that repiping can help you lower water expenses is by allowing you to repair your plumbing system. Oftentimes, fixing plumbing issues means less water is wasted, which helps reduce your water bill. Repiping can also let you take advantage of better fixtures and fixtures that use less water, which can also help lower your water bill.
Clogged Drains
Repiping the plumbing in homes is also great for those who suffer from clogged drains. Over time, it is common for drain grates, drainage pipes and other drainage parts of your home to become clogged with debris. If you repipe the plumbing in your home, you can prevent clogs from occurring by having your plumber clean out and repair pipes before they get clogged in the first place, ultimately avoiding the need for emergency plumbing services near you in Boca Raton
Burst Pipes
Repiping your home's plumbing lines is a common process known as repiping. Repiping is becoming a more and more popular process for plumbing lines in homes for many reasons. The main reason repiping has become more and more popular is quite apparent: it prevents burst pipes. Burst pipes are very costly in terms of water damage and time when they happen. Burst pipes can be caused by any number of things such as extreme weather changes, the freezing of water that enters the pipes or a number of other reasons. By repiping your home, you're taking steps to prevent burst pipes. This is a great reason to look into repiping your home every few years just to stay on top of all things related to your plumbing.
Adds Home Value
In today's competitive market, it pays to be competitive. Whether you are a new construction builder or a seasoned homeowner, you always want your home to be the most competitive. To achieve this, you should consider repiping or plumbing your home. Repiping the plumbing in homes is the most effective way to improve the quality of water in your home.
Upgrade Your Home Piping with Local Plumbers in Boca Raton
The plumbing system in your home is a large part of what keeps things running smoothly when it comes to water and drainage, as well as gas and electricity. As such, it's important that you keep your plumbing system in top running condition by having it serviced regularly by a professional plumber. Contact Us today.