Do You Need DIY or Emergency Plumber in Fort Lauderdale
Posted in Emergency Plumbing Services, on February 08, 2021
---
To DIY or not to DIY, that is the question! Many home-owners face this dilemma when dealing with plumbing issues. While minor plumbing problems can be fixed with some essential tools and basic knowledge in this DIY age, some plumbing issues are best left to professional plumbing services. Here's a quick look at plumbing situations you can try to DIY and others where an emergency plumber is your best bet: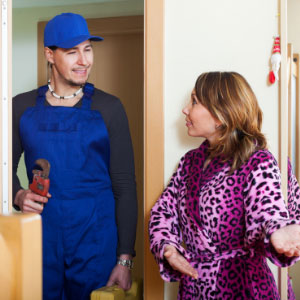 What you can DIY, but know your limits!
#Replacing a Showerhead
With the necessary tools, manufacturers' instructions, and a little bit of elbow grease, DIY plumbing enthusiasts can fix a new showerhead with ease. One needs to simply unscrew the old showerhead with a pair of pliers and then screw on the new showerhead. Just remember to shut off the main water supply valve!
#Unclog Sink or Shower Drain
Clogged sinks and shower drains are common irritants that can be resolved with a little DIY.
Try using a plunger to unclog the obstruction. If that fails, you can try sink/shower unblocking kits available at your local hardware store. However, strong chemicals can corrode your pipes, so please be careful. Experienced DIYers can try opening up the sink from the bottom to dislodge the debris, but just remember to keep a bucket underneath! If these simple fixes don't work, it is advisable to call an emergency plumber in Fort Lauderdale from a reliable plumbing service to fix the same.
#Fix Minor Leaky Faucets
A dripping faucet can cause a water loss of up to 3000 gallons per year! All the more reason to stop that annoying leak. Repair is easy for a rotary ball type faucet as the parts are readily available at any home improvement store. Ceramic disc and cartridge type faucet assemblies aren't readily available and can be a little tricky. However, if you are not confident about your plumbing skills or don't have time to spare, call a professional from a reputable plumbing service.
#Fix a Running Toilet
Nifty DIY plumbers can try fixing a running toilet without much hassle. A running toilet probably has a displaced floater valve or a broken stop valve. Shut off the water supply to the bathroom and then check for damage. You can try and replace the damaged valve on your own by following the assembly directions. However, it's better to seek help from a plumbing expert if you can't handle this yourself.
What you shouldn't DIY—Call The Experts.
#Outdoor Sewer Clog or Repair
A clogged sewer line is one repair that is best left to an expert plumber from a professional plumbing service. Sewer blockages are a health hazard and can also damage your property; a professional plumber has the right tools, experience, and expertise to diagnose and fix the problem. So, skip DIY on that clogged sewer drain and call in the experts.
#Cracked Pipe or Water Line Repair
While replacing or repairing a cracked plumbing pipe might seem easy, it can be misleading. The pipes need to be fitted correctly without any potential leaks and mismatches. Similarly, repairing a pipe may work temporarily, but you might be ignoring the real issue like corroded pipes or uneven water pressure. Plumbing professionals have advanced detection equipment like drain cameras to get to the bottom of your plumbing issues with minimal damage. Hiring an emergency plumber can get the job done right, quickly and efficiently.
#Water Heater Issues/Installation
Water and electricity can be a lethal combination—any water heater installations or repairs should be handled by a professional plumbing service. Even a small mistake or DIY mishap can cause serious injuries or damage, so unless you are a plumber yourself, leave the installation to an expert.
#Low Water Pressure
While low water pressure may not seem like a major plumbing problem, it can help spot hidden issues with your plumbing system. Leaks, corrosion, tree roots, or cracks deep within your plumbing network can be the cause of low water pressure. Diagnosing the actual cause requires plumbing expertise and specialized tools. An expert plumber from a reputable plumbing service can restore the water pressure and diagnose potential plumbing problems before they become expensive mistakes.
Emergency Plumbers in Fort Lauderdale
DIY is a great challenge and an excellent learning tool, but a lot can go wrong with complicated plumbing repairs. So it is best to leave the iffy plumbing jobs to the pros! If you're stuck with a plumbing problem, you cannot DIY, just call an expert emergency plumber from Broward Plumbing!
Our professional plumbers are available 24/7 for all your plumbing needs and emergencies. Just dial 954-516-7777 or contact us online for quality plumbing at competitive prices you'll love!