Do You Know The Signs Of When To Call A Plumber in Boca Raton?
Posted in Emergency Plumbing Services, on December 20, 2021
---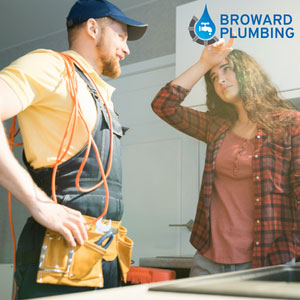 As a concerned homeowner, you certainly don't want to take a chance with your plumbing. If you think there's an issue with your plumbing, don't take a risk—contact a trusted plumber asap! When it comes to routine or emergency plumbing in Boca Raton, you know you can count on Broward Plumbing, Boca Raton's most trusted plumbing company. We only employ the best plumbers in Boca Raton—highly trained professionals who know all there is to know about plumbing. With fast, reliable, and affordable plumbing service across South Florida, we take pride in our 100% customer satisfaction rating. So if you need a plumber in Boca Raton who can fix all of your plumbing problems the first time, Broward Plumbing is your best bet!
If you're unsure whether you need to call a plumber, look out for these common signs:
Eye-Spy Visual Water!
If you find standing water in your home, you probably have a leak somewhere. It could be a leaking kitchen sink because of a loose faucet, water pooling around the base of your toilet, or water under your heater. Water damage on your ceiling, walls, or floor also needs prompt attention. Standing water or visible water damage are always signs of a larger problem. Never ignore these signs—call a professional plumber in Boca Raton right away. Looking out for these visual signs can help identify potential leaks before they become a plumbing nightmare!
Follow Your Nose!
Damp, musty smells in your home are almost always connected to water damage. Or it could be worse; mold in your pipes or walls! Mold thrives in wet environments, so excess moisture on the walls indicates a water leak! While water leaks can damage your home and property, mold spores can be incredibly hazardous for your health. The same goes for sewage back-ups and clogs; if you smell foul odors, it indicates a problem with your drains and sewage system. Don't take these smells lightly. Call the pros at Broward Plumbing to check out your plumbing on priority.
Use Your Ears!
Apart from your nose, your ears can also help spot warning signs of hidden plumbing issues.
Water usually makes a noticeable sound like a running shower or the gurgling of a draining sink. However, if you hear dripping or gurgling sounds from the walls, it's a clear indication of a water leak. Knocking pipes also indicate a problem, the most common being the 'water hammer.' It is a banging sound caused due to sudden high pressure or air pockets in the pipes. Squeaking sounds from water faucets are a typical sign of corrosion or loose parts in the pipes. If you don't take corrective steps, expect a water clog or back-up in the future that could have you scrambling for emergency plumbing in Boca Raton!
Certified Plumbers in Boca Raton
Be proactive. Keep your eyes, ears, and nose open and take timely action to nip plumbing issues in the bud! If you notice any of the above warning signs, call in the professionals from Broward Plumbing before a minor problem becomes a real pain. Our experienced and certified plumbers will diagnose the root cause to provide effective plumbing solutions for all your plumbing issues. Cutting corners or putting off needed repairs will only cause further damage and a big hole in your pocket! So save yourself the trouble and call an expert plumber in Boca Raton from Broward Plumbing today!