Five Signs Your House Has a Plumbing Issue
Posted in General Plumbing Services, on October 16, 2020
---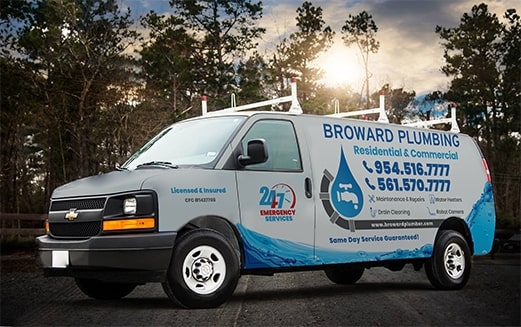 While most household plumbing issues are easily detectable, like a dripping tap, or a running toilet, sometimes you may not know that there could be a serious plumbing problem at play, until you speak to a plumber near Boca Raton. Here are five silent signs that indicate plumbing issues which you should get fixed from a reliable emergency plumber at the earliest:
1. Discoloured Pipes
If you spot signs of discoloration around the pipes in your kitchen or basement, it's a strong indication of moisture. This could be due to a dripping pipe in the sink or drain. However, it could also be caused by leak in your water supply line. As plumbing supply lines are pressurized, this slow leak could be a potential plumbing disaster! Makes sense to speed dial your emergency plumber and get it repaired at the earliest.
2. Sewer Odor
If your drains are smelly, it means that either you have a cracked vent or a dry trap. Vents are designed to channel sewer odor upwards, while a drain trap acts as a barrier to prevent sewer odors from coming in through the drain pipes. A dry trap can be refilled with water; in case it dries up again, it indicates a leak. Call an expert 24-hour plumber to determine the cause; if it's a cracked sewer vent, then it may require digging through the drywall to repair the vent.
3. Low Water Pressure
Weak or poor water pressure in your home could be caused by multiple issues. If it's confined to one area, it could be due to a faulty faucet aerator. However, if the water pressure is low at several locations in your house, it indicates a bigger problem in the hot water heater or a leak in the main supply line. Multiple issues like discolored pipes, along with low water pressure require a professional emergency plumber to inspect and repair your plumbing system.
4. Exorbitant Water Bills
A sudden hike in your water bills is definitely a sign that something's changed in your plumbing system. First, consider whether you've done anything recently to justify the increase in water usage, like filling up your pool. If not, then it could be a problem with your pipes; a leak, or a running toilet. Whatever be the cause, you definitely need to call an emergency or 24 hour plumber right away!
5. Slow Drainage
A slow drain indicates clogged pipes, or worse, a hidden leak in the plumbing. While a stray clogged pipe can be fixed easily, slow drainage throughout the home points to a significant plumbing problem. If it's the latter, then put this at the top of your to-do list and call an emergency plumber to carry out a drain camera inspection. It may not be affecting you much at present, but it could turn into a major plumbing issue in the future.
Repair Your Plumbing in Boca Raton with Broward Plumbing
Don't panic! Count on our team of certified professionals at Broward Plumbing for quality plumbing services in Boca Raton, Fort Lauderdale, West Palm Beach, and the surrounding areas, to fix all your plumbing issues. We provide both emergency plumbers and scheduled services to fix common and emergency plumbing problems.
Save yourself the stress and contact us anytime to send our 24 hour plumber.
Dial 954-516-7777 or 561-570-7777 for permanent solutions to all your plumbing issues!